ALWAYS MOVING FORWARD
Siempre Adelante
by
Mary Hunt Webb
Posted Thursday, April 30, 2015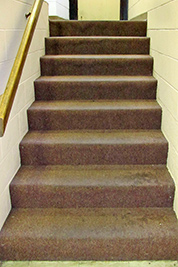 Stairs are not always memorable, but they serve a useful purpose in our lives. [Photographer: Mary Hunt Webb.*]
As my husband and I climbed the narrow staircase to what had been the Sunday School rooms of our former church, I could not remember having gone up and down those stairs every Sunday morning. My husband and I were visiting a city where we had lived during the first two years after we married. Our old Sunday School classroom is now part of the balcony for the sanctuary. The outside of the church looks different as well. A steeple now graces the roof where there was none before.
However, the building wasn't the only thing that had changed. We had changed, too. We had continued our education, obtained degrees, and moved six more times across the country. We had become parents and then grandparents. Like the structure of the church building, our basic personalities are still there, but we have added so much more!
That's the way it's supposed to be. In the Bible, we can see great changes that took place in the lives of David in 1 Kings and 1 Samuel, Naomi in the book of Ruth, and Esther in the book of Esther - to name only a few.
While changes are taking place, it may feel as though we are stagnant and not advancing, but progress is often only visible when we look back.
Of course, it's important not to live in the past, but an occasional glance back provides an important measurement of how far we have come. However, a rearview mirror should only be used occasionally. Eyes must focus forward in order to make progress.
God has not promised us that following Him and accepting Jesus as our Lord and Savior will be easy, but He has promised to be with us and guide us. We do not have to worry or fear because the Bible tells us in 2 Timothy 1:7 "For God hath not given us the spirit of fear; but of power, and of love, and of a sound mind." (King James Version)
We can rely on Him.
BIBLE VERSE FOR THIS POSTING
2 Timothy 1:7 - For God hath not given us the spirit of fear; but of power, and of love, and of a sound mind. (King James Version)

2 Timoteo 1: 7 - Porque no nos ha dado Dios el espíritu de temor, sino el de fortaleza, y de amor, y de templanza. (Reina Valera Antigua)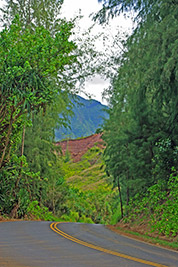 When we follow God, we do not have to worry about where the road leads us because we trust Him to guide us. [Photographer: Morris Webb, Jr.*]
* Please do not use our original photos without our permission. These include photos by Mary Hunt Webb, Morris Webb, Jr., Morris Webb, Sr., and C.B. Hunt. Thank you.
Return to the top of the page