SUMMER MEMORIES
Las Reminiscencias de Verano
By Mary Hunt Webb
Posted Thursday, July 31, 2014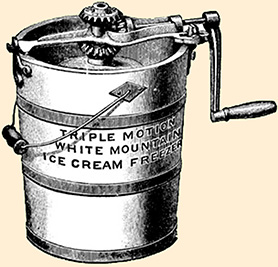 Memories of summer may recall ice cream socials where ice cream was made by hand. [Image courtesy of icecreamnation.org.]
The dictionary defines "summer" as "the season between spring and autumn; …the warmer half of the year." The word "half" would lead one to believe that summer lasts six months, but that is not true in most locales. The length of summer depends on where one lives. For many people, thoughts of summer include homemade ice cream at ice cream socials, clover in the grass, sleeveless clothing, sandals, potato salad, and mosquito bites.
For most families, summer ends when classes begin in public schools. When my husband and I were children, the indicator that summer was about to end was the sound of commercials on radio and television that advertised school supplies and clothing for children. The most memorable was a short, musical advertisement for Robert Hall Clothes, a clothing company that no longer exists.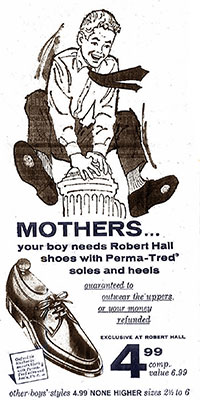 Mothers that wanted their sons' shoes to last were the target of this advertisement for boys' shoes. [Image courtesy of soyosunset.yuku.com.]
The lyrics declared, "School bells ring and children sing, 'It's back to Robert Hall again!'"
My husband recalls, "When I heard that on the radio, I knew the game was up!"
The music of childhood is important because it evokes vivid memories. Equally strong in my memory are the hymns I sang in my youth. Certain hymns evoke particular reminiscences.
I remember that when our choir director would announce a hymn that employed high notes, my mother would get a certain twinkle in her eye that declared, "I'm going to sing those notes!" And she always did! Consequently, I recall my mother with that twinkle in her eye when I hear certain hymns with extremely high notes.
Today, few churches in the United States sing cherished hymns of the past. I feel sad that we are losing our rich heritage of hymns that authors such as Phillip P. Bliss wrote.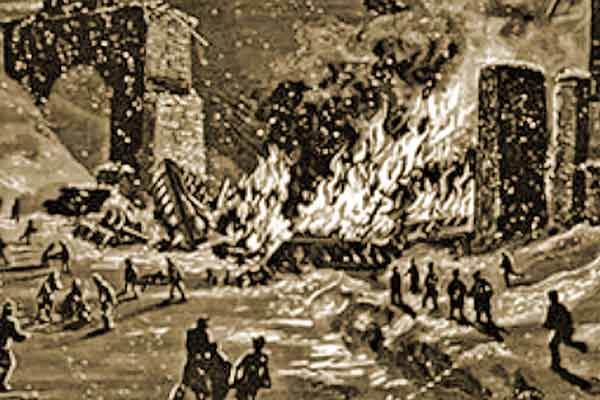 This illustration depicts the collapse of the railroad bridge at Astabula, Ohio, on December 29, 1876, that took the life of prolific hymnist Philip P. Bliss and his wife, Lucy. [Image source from the Ohio History Central.]
Few people today know that Philip P. Bliss is regarded one of the more famous Christian hymn writers. Before he died in a tragic train accident at age 38, he composed the music for "It Is Well With My Soul" to blend with the words that Horatio G. Spafford wrote after his four daughters died during an ocean voyage while crossing the Atlantic.
For me, the most memorable hymn that Mr. Bliss wrote is "Wonderful Words of Life". The words bring back memories of hot, sticky Sunday evenings spent singing hymns in a church sanctuary where the air-conditioning could not keep up with the heat and humidity. We happily sang with the certain knowledge that when church service was over, we would return to our hot, rented, house and be thankful that we had it. We were thankful because we had Jesus in our lives and because we had each other. We were confident because 1 John 4:4 assures us that, "You are of God, little children, and have overcome them, because He who is in you is greater than he who is in the world."
That was all we needed. And it still is.
BIBLE VERSE FOR THIS POSTING
1 John 4:4 - You are of God, little children, and have overcome them, because He who is in you is greater than he who is in the world. (New King James Version)

Juan 4:4 - Hijitos, vosotros sois de Dios, y los habéis vencido; porque mayor es el que está en vosotros, que el que está en el mundo. (Reina-Valera 1960)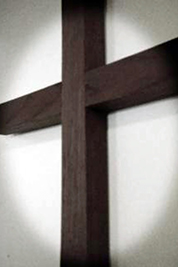 The cross is a reminder that Jesus overcame death and is always with us. [Photographer: Bjorgvin Gudmundsson. Photo courtesy of Stockvault.net.]
Return to the top of the page