CHRISTMAS BLESSINGS
Bendiciones de la Navidad
By Mary Hunt Webb
Posted Saturday, December 21, 2013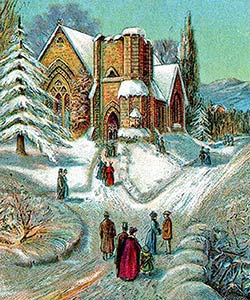 Such scenes as this are beautiful to look at, but difficult to be a part of. [Image courtesy of christiansunite.com]
When I look at the snowy scene above, I remember a year when our Sunday School class had its Christmas party, and all the women wore long skirts. When the evening was over, we discovered that snow was falling outside and had accumulated. We had to lift our long skirts to keep them from collecting snow and getting wet. Even with our effort, the edges of our skirts still got wet.
The ladies in the scene above not only had to contend with wet skirts, but muddy ones as well because the roads were not paved. Once inside the church, they undoubtedly found that the building was cold because such buildings were heated with wood fires or coal.
Today, most of us can travel to church in cars or public transportation. In cold weather, it is acceptable to wear slacks and boots. Our buildings are heated through electricity or natural gas. Our lives have advanced, but are we happier?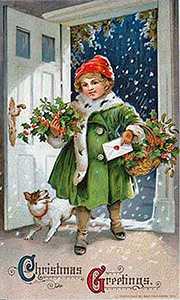 Can we smile when it's snowing and the weather makes travel difficult? [Image courtesy of christiansunite.com]
The message at Christmas is not about providing material blessings, but about recognizing the ones we have. It's about recognizing how very much God loves us. He loves us so much that He sent His one and only Son to earth to tell us that "God is love". First John 4:16 tells us, "And we have known and believed the love that God has for us. God is love, and he who abides in love abides in God, and God in him." (New King James Version)
There are two ways to show that we love God in return. One is to obey what He tells us in the Bible, as it says in 1 John 5:3: "For this is the love of God, that we keep His commandments. And His commandments are not burdensome." (New King James Version)
The second is to reflect God's love for us by loving others. In John 13:34, Jesus told us, "A new commandment I give to you, that you love one another; as I have loved you, that you also love one another." (New King James Version)
Love is the best gift we can give each other this Christmas and all year through.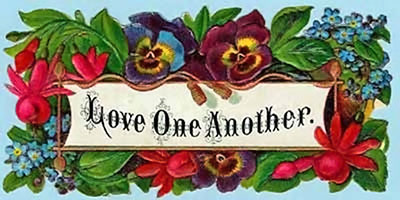 A new commandment I give to you, that you love one another. [Image courtesy of christiansunite.com]
BIBLE VERSES FOR THIS POSTING
1 John 4:16 - And we have known and believed the love that God has for us. God is love, and he who abides in love abides in God, and God in him. (New King James Version)

1 Juan 4:16 - Y nosotros hemos conocido y creído el amor que Dios tiene para con nosotros. Dios es amor; y el que permanece en amor, permanece en Dios, y Dios en él. (Reina-Valera 1960)

1 John 5:3 - For this is the love of God, that we keep His commandments. And His commandments are not burdensome. (New King James Version)

1 Juan 5:3 - Pues este es el amor a Dios, que guardemos sus mandamientos; y sus mandamientos no son gravosos. (Reina-Valera 1960)

John 13:34 - A new commandment I give to you, that you love one another; as I have loved you, that you also love one another. (New King James Version)

Juan 13:34 Un mandamiento nuevo os doy: Que os améis unos a otros; como yo os he amado, que también os améis unos a otros. (Reina-Valera 1960)
The best gift we can give each other is love. It is what God gave us when He sent His Son to earth as a baby. [Image courtesy of christiansunite.com]
Return to the top of the page