SING A SONG AND READ
Cante y Lea Ud. Una Canción
By Mary Hunt Webb
Posted Sunday, September 29, 2013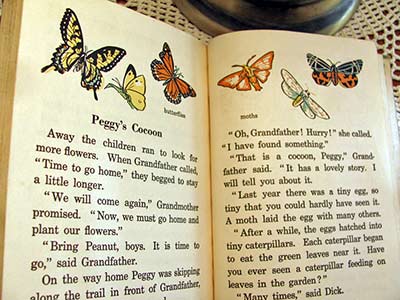 This lesson about the differences between butterflies and moths came from a children's reader with a 1935 copyright date. [Photographer: Mary Hunt Webb, 2013*]
Whenever I can, I read stories to children with whom I have contact. In doing so, I have observed that fewer opportunities exist for children to learn to read properly these days. I know that sounds strange, but the overwhelming presence of television and computers have crowded out books even more than media did when our son was growing up.
We had only a small black and white television until our son was a teenager. We turned down an early offer to acquire a color television from relatives because we didn't want our young son to be ensnared by it. Our concern was that it would distract him from his homework and from reading. A black and white television wasn't as riveting as a color one so that our son read, drew pictures, played sports, and interacted with friends and family. When that little black and white set stopped working, we spent three months without a television of any kind. When Christmas drew near that year, we decided we were ready for another set, but black and white televisions were no longer available. By then, our son's reading habit was already deeply ingrained.
The printed word was still present at that time but to a lesser extent than it had been when I was growing up. I'm not talking only about books for children and youth. Books and magazines were everywhere because words and images weren't flashed up on big screens for people to glance at.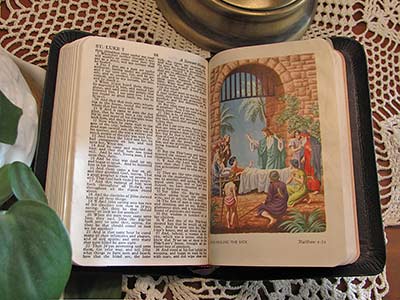 I received this Bible as a gift when I was eight years old. I carried it to church with me and was expected to read aloud from it during Sunday School. The teacher helped us pronounce the difficult words so that we received vocabulary instruction along with Bible teaching. [Photographer: Mary Hunt Webb, 2013*]
We sang songs printed on paper and in books rather than from images on screens. Churches used hymnals. Since there was no children's church, participation in church with my family forced me to read sophisticated words. My mother pointed with her finger to each word in the hymnal as I sang along with the adults.
In Sunday School, we not only read Bible stories, but we read the Bible. As youth, we took turns reading Bible verses aloud that pertained to the Sunday School lesson. The importance of that activity had far more value than I realized at the time. I now understand that my involvement in Sunday School and church caused me to develop an advanced vocabulary while I was still young.
The psalmist captured that idea when he praised God and said, "The unfolding of your words gives light; it gives understanding to the simple." (Psalm 119:130, New International Version)
I didn't fully appreciate how much church participation had contributed to my education until a few years ago when I wrote a rhyming children's story based on a Bible passage. At that time, an editor told me that most children don't know the meaning of the word "bleak" that I had encountered as a child in hymns and in the Bible.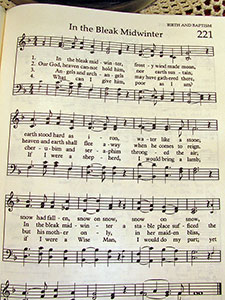 Hymns, such as "In the Bleak Midwinter", written in 1872, taught me an advanced vocabulary when we sang them in church. [Photographer: Mary Hunt Webb, 2013*]
I had used that word to rhyme with another because I thought children would know such a short word. According to that editor, they don't. Since children no longer sing the standard hymns, they have lost an acquaintance with the vocabulary that those songs offered. It's difficult to comprehend that the vocabulary of children has shrunk, but it has!
That understanding has caused my husband and I to make an effort to read books with our grandson and to use books rather than videos when we sing songs with him. Through reading the Bible and singing hymns with us, he has gained an insight greater than the public schools offer him. Education is in the hands of all those that interact with children at church, at home, and in our neighborhoods. They are our future, and they must be able to read!
BIBLE VERSES FOR THIS POSTING
Psalm 119:130 "The unfolding of your words gives light; it gives understanding to the simple." (New International Version)

Salmos 119:130 "La exposición de tus palabras alumbra; Hace entender a los simples." (Reina-Valera 1960)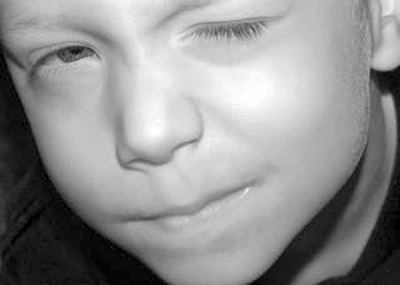 Children are watching us, even when we pray. [Photographer: Chris Cooper. Photo courtesy of Stockvault.net.]
* Please do not use our original photos without our permission. These include photos by Mary Hunt Webb, Morris Webb, Jr., Morris Webb, Sr., and C.B. Hunt. Thank you.
Return to the top of the page