SCENT OF THE SAVIOR
La Fragancia del Salvador
By Mary Hunt Webb
Posted Wednesday, July 31, 2013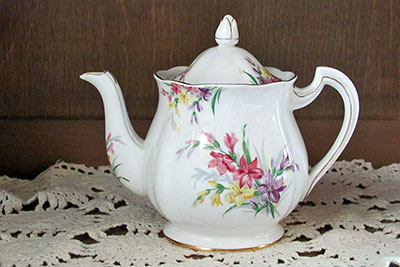 Like many people around the world, hot tea is my morning beverage. [Photographer: Mary Hunt Webb.*]
Each morning, I pour my hot tea into an insulated cup with a tight-fitting lid. It stays warm as I carry it with me and sip it throughout the morning. Sometimes I take it with me when I leave the house. Of course, I occasionally mislay my cup and must buy a new one. It is expensive to purchase new ones. Therefore, I often look for replacements at secondhand stores and garage sales. I wash each one thoroughly with hot water and soap before using it. Since I don't want my tea to pick up the taste or odor of coffee, I sniff each cup before deciding on a purchase.
One day, I picked up a blue cup and inhaled the lingering sweetness of chocolate!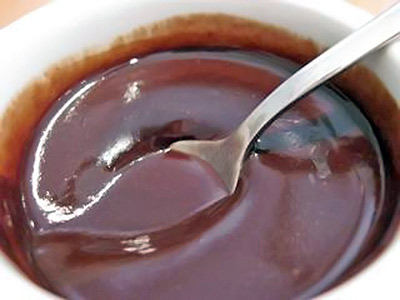 Caption: The aroma of hot chocolate is unmistakable! [Photographer: Boris Kyurkchiev. Photo courtesy of Stockvault.net.]
Ah! Such a lovely aroma! Of course, I bought it! Although the chocolate scent only lasted a short while, it was delightful while it lasted!
As Christians, we carry the unmistakable scent of Jesus with us. Second Corinthians 2:15 affirms this when it assures us, "For we are the aroma of Christ to God among those who are being saved and among those who are perishing." (New Revised Standard Version) The atmosphere changes when we enter a room so that others inhale the vapor of His presence in us. Reading the Bible each day and praying throughout the day fills us anew so that the distinct aroma of spending time with Him clings to us like the tantalizing smell of chocolate in a cup.
BIBLE VERSE FOR THIS POSTING
2 Corinthians 2:15 "For we are to God the fragrance of Christ among those who are being saved and among those who are perishing." (New King James Version)

2 Corintios 2:15 "Porque para Dios somos grato olor de Cristo en los que se salvan, y en los que se pierden." (Reina-Valera 1960)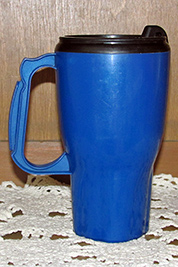 I drink my morning tea in a cup similar to this one. [Photographer: Mary Hunt Webb.*]
* Please do not use our original photos without our permission. These include photos by Mary Hunt Webb, Morris Webb, Jr., Morris Webb, Sr., and C.B. Hunt. Thank you.
Return to the top of the page