PUTTING UP THE CHRISTMAS TREE
Armar el Arbolito de Navidad
By Mary Hunt Webb
Posted Friday, November 30, 2012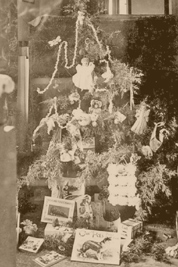 Dolls, popcorn on a string, and recycled Christmas cards supply the simple decorations on this 1888 Christmas tree. [Photographer: Unknown. Photo courtesy of the Kansas Historical Society.]
It's that time of year again! Christmas is less than a month away!
Do you put up a Christmas tree in your home? Or do you hang other decorations instead, such as wreaths or garlands?
If you put up a tree, do you prefer a freshly cut one? If so, do you make it a family outing to go and select one together?
Perhaps it was because we did not own a car when I was young that we needed all of us to go along to select the tree so that we could all help carry it home. While only two people were needed – one for the front end and one for the back – we rotated and took turns so that no one became overly tired. However, I enjoyed the cooperative spirit of selecting our tree together. Several pairs of eyes scanned each possibility for indications of disease or a crooked trunk.
On the other hand, your family may have decided to preserve real trees by using an artificial one each year. That was the choice my husband and I made for the health of our family decades ago. (For the story of how and why we arrived at that decision, please see our posting entitled, "Our Christmas Tree of Memories", from December 3, 2011.) In addition to saving trees, we have estimated that we may have saved $1,000 or more over the years by reusing the same tree.
In years past, it was safe to place a Christmas tree in front of a window so that others might share in the enjoyment of the decorated tree. [Photographer: Unknown. Circa 1943. Photo courtesy of the Kansas Historical Society.]
Once you have your tree, you must decide where will you place it. Will you put it in front of a window? Or are you concerned that potential thieves might see the presents under it and decide to rob your home?
If you tuck it in a corner of a room, you must be careful to decorate the back of the tree as well as the front. If you don't, the weight of the ornaments on the decorated side could cause the tree to topple over. That would be a disaster!
After you have selected the location and before you add ornaments, you may decide you want to add electric lights to your tree.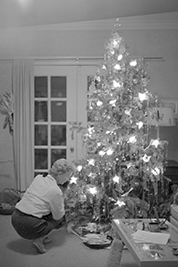 The addition of electric lights to a Christmas tree is a tradition that has been around for many years, as we see in this photo from 1959. [Photographer: Unknown. Photo courtesy of the Kansas Historical Society.]
Putting lights on your tree may already be a tradition for your family. For many years, we didn't have lights on our tree because of the difficulty of untangling the strings of lights each year. Although we added colored lights to our tree years ago, newer artificial trees now come with lights already attached to the branches. That means no more strings of lights – unless you have a freshly cut tree.
I like electric lights on a Christmas tree because they remind me of John 8:12, "Then Jesus spoke to them again, saying, "I am the light of the world. He who follows Me shall not walk in darkness, but have the light of life." (New King James Version)
When we believe that Jesus is the Son of God, we reflect His light to a dark world. Morris and I pray that you will be that reflection this Christmas.
BIBLE VERSE FOR THIS POSTING
John 8:12 "Then Jesus spoke to them again, saying, "I am the light of the world. He who follows Me shall not walk in darkness, but have the light of life." (New King James Version)

Juan 8:12 "Otra vez Jesús les habló, diciendo: Yo soy la luz del mundo; el que me sigue, no andará en tinieblas, sino que tendrá la luz de la vida." (Reina-Valera 1960)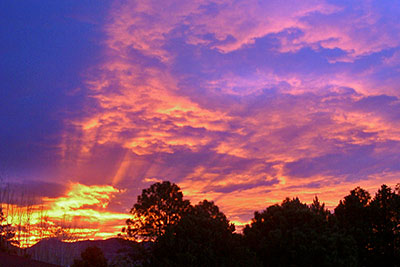 The Light of the world is Jesus. [Photographer: Mary Hunt Webb.]
Return to the top of the page