A TABLE PREPARED – PSALM 23 — Part 12
Una Mesa Preparada – Salmos 23 — Parte 12
By Mary Hunt Webb
Posted Monday, August 27, 2012
Sheep do not eat from a table. These sheep eat from a trough when they are not grazing in a field. [Photographer: unidentified. Photo courtesy of Stockvault.net.]
Psalm 23:5 "You prepare a table before me in the presence of my enemies; You anoint my head with oil; My cup runs over." (New King James Version)

Salmos 23:5 "Tú preparas mesa delante de mí en presencia de mis enemigos; has ungido mi cabeza con aceite; mi copa está rebosando." (La Biblia de Las Américas)
When I repeat the Twenty–third Psalm, my thoughts often go back to my childhood when I first memorized that beloved chapter. To my young ears, the reference to "a table" in Psalm 23:5 brought up the image of the rectangular oak table at which our family consumed all our meals. That brown table was so strong that I remain convinced that it could have withstood nuclear attack.
As I grew older, I realized that the idea of a dining table was not in keeping with the sheep–based theme of the previous four verses of Psalm Twenty–three. Sheep do not eat from tables. Since David – the author of this Psalm – compared himself to a sheep and referred to God as his Shepherd, it seems inconsistent that David would suddenly switch from the imagery of green pastures to that of a banquet table. However, the concept of a flat–topped "tableland" does fit the pastoral picture that David has presented throughout this chapter.
The idea of a tableland made even more sense when I learned that the Spanish word for "table" is mesa. The English language has borrowed that Spanish word so that speakers of English use mesa to refer to a tableland that is flat on top and has a steep or abrupt slope on at least one side. The Spanish word for such a land formation is meseta.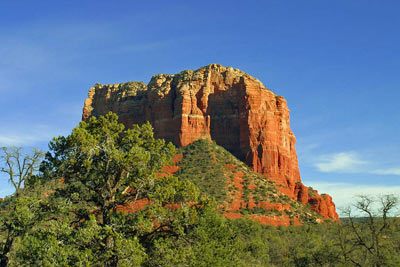 When I first saw this photo of a mesa near Sedona, Arizona, I thought of the dining table from which we ate our meals when I was a child. [Photographer: Jon Sullivan, courtesy of Public–domain–photos.com.]
As we seek to capture the picture that David tried to create with words, it helps to know that his homeland, Israel, is a strip of land about the size of New Jersey. It is approximately 150 miles long and 70 miles wide and sits along the coast of the Mediterranean Sea. Israel lies between Lebanon on the north, Syria and Jordan on the east, and Egypt on the southwest.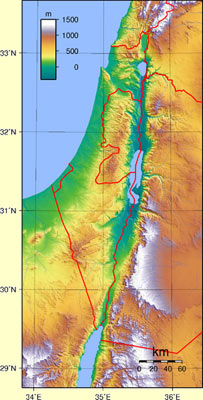 The green coastlands of Israel slope up from the Mediterranean Sea on the west to the central mountains that run from north to south through the country. [Map courtesy of Wikipedia.org.]
While the low coastal plain on the western edge of Israel is about 20 or 30 miles in width, the main backbone of the country is a central range of medium–sized mountains that run from north to south. These mountains rise from 4,000 to 7,000 feet above sea level.
Rather than writing of a freestanding mesa that would not contain a water source that sheep would require, David might have referred to a wide, flat tableland that jutted out from a mountain. Such an extension might have had a pool or a natural basin that would catch rain. A stream might have flowed from the taller mountain to provide the water source that sheep require when they graze.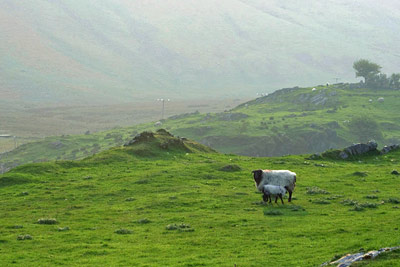 This tableland on which this ewe and lamb stand appears to be part of a larger range of hills or mountains. [Photographer: Jon Sullivan. Photo courtesy of Public–domain–photos.com.]
Although the formation of a tableland is a natural occurrence, the shepherd still must work to clear the area of poisonous plants, weeds, stones, and other hindrances that might make the environment inhospitable to sheep. He must also create a safe environment for the sheep so that they do not become nervous or frightened. As stated in an earlier posting, anxious sheep can run, hurt themselves, and send panic through the flock so that other sheep are injured as well. No matter how much the sheep owner strives to keep predators away, wolves and other hungry enemies are always watching for that one stray sheep that could be dinner!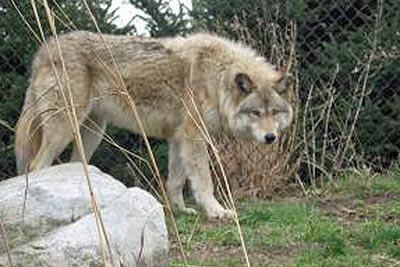 Wolves are seldom this visible, but are excellent at hiding while stalking their prey. [Photographer: Melissa Ruffing. Photo courtesy of Stockvault.net.]
When David wrote, "You prepare a table before me," he imparted the idea that God cares enough about us to take the time and trouble to prepare in advance the situations that we need for our growth and progress. God is always thinking of us. That part is good, but we don't like to think about the words that follow — "…in the presence of my enemies."
We may not always agree with the circumstances that God allows when He prepares a tableland or a situation with our adversaries all around. We may wonder why He doesn't eliminate our enemies and allow us to prosper in peace! However, if He did that, we might forget that we are dependent on Him for our daily well–being. The presence of our enemies reminds us that we must stay close to Him for safety and protection. Those of us that choose to wander away from our Heavenly Shepherd must suffer the consequences of our supposed independence.
Another aspect of grazing in the presence of enemies is that difficulties keep us alert and strong. We don't grow stronger during peaceful, pleasant periods.
If you think back to times when you grew and learned the most, you may remember that those were probably intervals of difficulty and, perhaps, strife. The unpleasant truth is that adversity strengthens us because it forces us to use our muscles. Those "muscles" may not necessarily be physical ones but may be mental, spiritual, or emotional in nature.
That growth is God's goal in our lives. As our Heavenly Shepherd, He wants us to become stronger. Psalm 100:3 states the situation best when it says, "Know that the LORD, He is God; It is He who has made us, and not we ourselves; We are His people and the sheep of His pasture." (New King James Version). We are not out in the world alone. God is watching over us in ways that our limited, human minds cannot imagine.
If you have not acknowledged God as your Shepherd and Guide, you can do so today. You can put Him in charge of your life with a prayer such as this one:
"God, my life is out of control! I don't know what to do any more, but I am trusting that You do. Please take the lead in my life. I am tired of trying to sort out the mess that my life has become. Please take charge. I give it all to you — the legal problems, the financial confusion, the family muddle, the difficult neighbors, the career catastrophe — all of it. Make what You will of it. I can't handle it any more. Please show me the direction that You want the rest of my life to take. I pray this in the name of Jesus, Amen."
If you prayed that prayer, you are now in God's care. He will not desert you or lead you astray. You can count on Him to direct your life and lead you through your difficulties. Welcome to the flock!
BIBLE VERSES FOR THIS POSTING
Psalm 23:5 You prepare a table before me in the presence of my enemies; You anoint my head with oil; My cup runs over." (New King James Version)

Salmos 23:5 "Tú preparas mesa delante de mí en presencia de mis enemigos; has ungido mi cabeza con aceite; mi copa está rebosando." (La Biblia de Las Américas)

Psalm 100:3 "Know that the LORD, He is God; It is He who has made us, and not we ourselves; We are His people and the sheep of His pasture." (New King James Version)

Salmos 100:3 "Reconoced que Jehová es Dios; El nos hizo, y no nosotros a nosotros mismos; Pueblo suyo somos, y ovejas de su prado." (Reina–Valera 1960)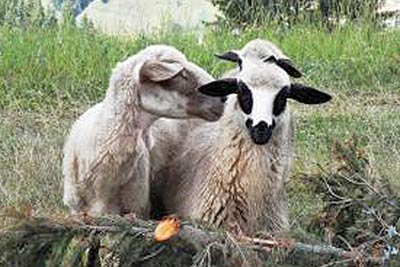 Hi! Welcome to the flock! [Photographer: Yulty Ganev. Photo courtesy of Stockvault.net.]
Psalm 23 — 1) The Lord is my shepherd. I shall not want. 2) He makes me to lie down in green pastures; He leads me beside the still waters. 3) He restores my soul; He leads me in the paths of righteousness For His name's sake. 4) Yea, though I walk through the valley of the shadow of death, I will fear no evil; For You are with me; Your rod and Your staff, they comfort me. 5) You prepare a table before me in the presence of my enemies; You anoint my head with oil; My cup runs over. 6) Surely goodness and mercy shall follow me All the days of my life; And I will dwell in the house of the LORD Forever." (New King James Version)

Salmos 23 — 1) El Señor es mi pastor; nada me faltará. 2) En lugares de verdes pastos me hace descansar; junto a aguas de reposo me conduce. 3) El restaura mi alma; me guía por senderos de justicia por amor de su nombre. 4) Aunque pase por el valle de sombra de muerte, no temeré mal alguno, porque tú estás conmigo; tu vara y tu cayado me infunden aliento. 5) Tú preparas mesa delante de mí en presencia de mis enemigos; has ungido mi cabeza con aceite; mi copa está rebosando. 6) Ciertamente el bien y la misericordia me seguirán todos los días de mi vida, y en la casa del SEÑOR moraré por largos días." (La Biblia de las Américas)
Return to the top of the page