HE LEADETH ME - PSALM 23 – Part 6
Salmos 23 – Parte 6
By Mary Hunt Webb
Posted Wednesday, April 25, 2012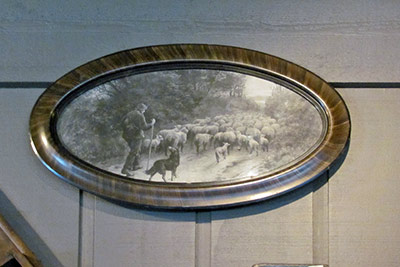 This antique picture hung on the wall of a restaurant where my husband and I ate lunch one day. Read on to see what fascinated me about this scene. [Photographer: Mary Hunt Webb.]
Psalm 23:2 "He maketh me to lie down in green pastures; He leadeth me beside the still waters." (King James Version)

Salmos 23:2 "En lugares de delicados pastos me hará yacer; Junto á aguas de reposo me pastoreará." (Reina-Valera Antigua)
Charming antiques surrounded my husband and I while we ate lunch at a restaurant. My husband faced the bank of windows so that he could see outside. Sitting across from him, I faced the opposite wall where framed old photographs, vintage pictures, and antique musical instruments hung, surrounded by children's toys from bygone eras.
As I spread jelly on a biscuit, an oval frame caught my eye. Despite the light reflecting off the glass that covered the artwork, I could still see the depiction of a shepherd and his dog in the foreground with a flock of sheep extending up a path that led into the background. As I stared at the fluffy tails of the sheep, I could tell that they were headed away from the shepherd and his dog. Something was wrong with that picture!
Since I have been writing about Psalm 23 for several weeks, I understood that sheep do not know where they are going when they walk. They will wander off in any direction with younger ewes or females following older, dominant ones. Consequently, they need guidance and protection. It is only the leadership of the shepherd that keeps them out of trouble.
It suddenly came to me: The sheep in that picture were not following the shepherd! The shepherd was following the sheep!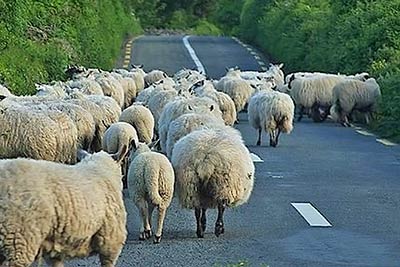 With no shepherd to guide them, sheep not only endanger themselves, but others as well. [Photographer: Jon Sullivan, courtesy of Public-domain-photo.com.]
Remembering that I had left the camera in the car after taking other photos earlier in the day, I excused myself from the table to hurry out to the parking lot. As I headed out the door of the restaurant, I remembered the words to an old hymn that took its title from Psalm 23:2. Reverend Joseph H. Gilmore wrote the words for "He Leadeth Me" in 1862, during the American Civil War. William H. Bradbury later composed the music for Gilmore's work. (Information regarding "He Leadeth Me" is courtesy of cyberhymnal.org.)
While I walked toward our car, the words to the first verse of that hymn tumbled out of my memory and into my conscious stream of thought:
"He leadeth me! O blessed tho't!
O words with heavenly comfort fraught!
Whate'er I do, where'er I be,
Still 'tis God's hand that leadeth me."
As I unlocked the car, the chorus followed the first verse,
"He leadeth me, He leadeth me,
By His own hand He leadeth me:
His faithful follower I would be,
For by His hand He leadeth me."
With the lyrics bouncing in my head, I mused that they did not say "He followeth me," as the picture on the wall appeared to indicate.
Upon my return, I tried to station myself out of the traffic pattern of the busy wait staff so that I could obtain a good photo of what appeared to be a print of a detailed ink drawing done in shades of gray. Waitresses looked at me strangely while I took snapshots.
"The picture is all wrong," I said to one curious waitress. At first, she did not understand until I explained. "Sheep can get into trouble if no one guides them. The shepherd should be ahead of the sheep rather than behind them!"
"You're right!" Then she confessed, "I look at that picture every day but I never noticed that before!"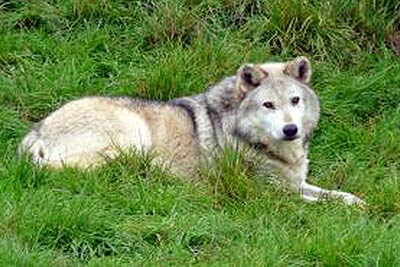 Danger awaits sheep that fail to follow the Shepherd. [Photographer: Kate Towers, courtesy of Stockvault.net.]
Sheep don't have leadership capacity. They can't see the big picture. Therefore, they must follow someone that knows where they are going. If they are not good followers, they may wander off and get eaten by wolves or other predators. That can certainly lead to the "gloom" referred to in the second verse of Reverend Gilmore's hymn,
"Sometimes 'mid scenes of deepest gloom,
Sometimes where Eden's bowers bloom,
By waters still, o'er troubled sea,
Still 'tis His hand that leadeth me."
Psalm 119:176 describes the tendency of sheep to wander when it says, "I have gone astray like a lost sheep; Seek Your servant, For I do not forget Your commandments." (New King James Version)
In this and other verses, the Bible compares us to sheep because we repeatedly wander away from our Heavenly Shepherd, get into trouble, bleat for help, rest in His reassuring arms when He rescues us, and joyfully leap to enjoy our return to the flock. With a short memory, we soon yield once more to the lure of other forage away from our Shepherd and wander off again to repeat the cycle. Such recurrence indicates an unwillingness to be lead.
In order for God to lead us, we must be willing to follow our Heavenly Shepherd. We must accept His leadership and follow it in order to receive the benefits of His loving care. As two-legged sheep, we need to do more than merely follow Him; we must pursue Him.
Moving closer to Him, we must seek to please our Heavenly Shepherd, according to the third verse of that hymn,
"Lord, I would clasp Thy hand in mine,
Nor ever murmur nor repine;
Content, whatever lot I see,
Since 'tis my God that leadeth me."
What is it that you do in order to move closer to Him? Not everyone is a preacher, as Joseph H. Gilmore was. William B. Bradbury was a sheep that composed music. As a two-legged sheep, my lot is to write and to speak to encourage other sheep. My husband is a sheep that writes code on the computer and posts our material on the Internet. Perhaps you are a sheep that cleans buildings or homes so that others may be comfortable and healthy. Or, you may be a sheep that designs those homes and buildings where people live and work. Maybe you are a sheep involved in the field of medicine. Whatever your talent, you will find that as you use your gift for God's glory – rather than your own – that you will gradually move closer to the Good Shepherd.
Bible Verses for this Posting
Psalm 23:2 "He maketh me to lie down in green pastures; He leadeth me beside the still waters." (King James Version)

Salmos 23:2 "En lugares de delicados pastos me hará yacer; Junto á aguas de reposo me pastoreará." (Reina-Valera Antigua)

Psalm 119:176 "I have gone astray like a lost sheep; Seek Your servant, For I do not forget Your commandments." (New King James Version)

Salmos 119:176 "Yo anduve errante como oveja extraviada; busca a tu siervo, Porque no me he olvidado de tus mandamientos." (Reina-Valera 1960)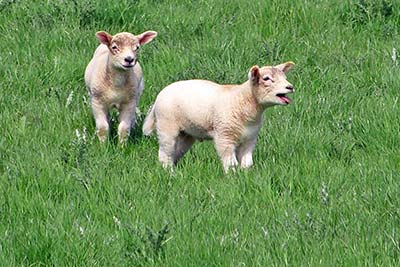 These lambs seem to be calling, "Wait for us! [Photographer: Jon Sullivan, courtesy of Public-domain-photo.com.]
Psalm 23 – "1) The Lord is my shepherd. I shall not want.
2) He maketh me to lie down in green pastures; He leadeth me beside the still waters.
3) He restoreth my soul: he leadeth me in the paths of righteousness for his name's sake.
4) Yea, though I walk through the valley of the shadow of death, I will fear no evil: for thou art with me; thy rod and thy staff they comfort me.
5) Thou preparest a table before me in the presence of mine enemies: thou anointest my head with oil; my cup runneth over.
6) Surely goodness and mercy shall follow me all the days of my life: and I will dwell in the house of the LORD for ever." (King James Version)

Salmos 23 – 1) Salmo de David. "JEHOVA es mi pastor; nada me faltará.
2) En lugares de delicados pastos me hará yacer; Junto á aguas de reposo me pastoreará.
3) Confortará mi alma; Guiárame por sendas de justicia por amor de su nombre.
4) Aunque ande en valle de sombra de muerte, No temeré mal alguno; porque tú estarás conmigo: Tu vara y tu cayado me infundirán aliento.
5) Aderezas mesa delante de mí, en presencia de mis angustiadores; Ungiste mi cabeza con aceite: mi copa está rebosando.
6) Ciertamente el bien y la misericordia me seguirán todos los días de mi vida: Y en la casa de Jehová moraré por largos días." (Reina-Valera Antigua)
Return to the top of the page