HE MAKETH ME TO LIE DOWN – PSALM 23 – Part 4
Me hará yacer. – Salmos 23 – Parte 4
By Mary Hunt Webb
Posted Tuesday, March 27, 2012
This ewe ruminates, or chews her cud, in the shade of a tree. [Photographer: Magnus Rosendahl, courtesy of Public-Domain-Photos.com.]
Psalm 23:2 "He maketh me to lie down in green pastures;…" (King James Version)

Salmos 23:2 "En lugares de delicados pastos me hará yacer;…"(Reina-Valera Antigua)
When I was growing up, we had some elderly neighbors from Croatia that had been married more than 60 years. The husband was a retired plumber who still actively tended their garden on their oversized corner lot. Such activity was exhausting in Oklahoma's heat and humidity. Therefore, when he got tired, he merely lay down wherever he was. In that culture, people did not sit down just anywhere simply because they were tired, and they certainly did not lie down. But, he did! I don't know if he actually slept or merely rested, but he certainly presented an unusual sight.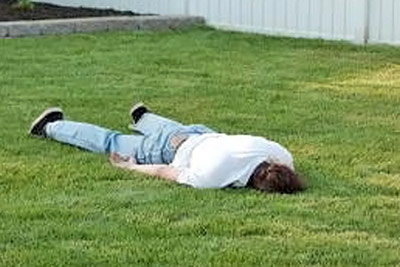 Like our former neighbor, this young man has decided that an expanse of green lawn is a good place to rest. [Photographer: Mark Manalaysay, courtesy of Stockvault.net.]
When people drove by and saw that elderly man lying on the lawn with his eyes closed, they thought he had collapsed or died. Fortunately, the people that lived in that neighborhood were accustomed to seeing him sprawled on the lawn. They were able to assure passersby that he was merely resting.
Laying down in public, and particularly outdoors, calls for trust that someone or something is not going to harm the resting person. When one lies down, one becomes a greater target for one's enemies. A moving being, whether a person or an animal, is more difficult to hit and harm than one that is at rest.
Sheep, in particular, have difficulty lying down because they are fearful of those that would harm them. Even a loud noise will frighten them enough to cause them to run.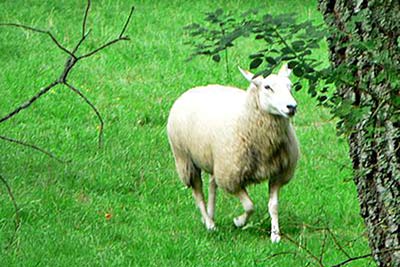 Sheep are easily frightened so that the slightest noise causes them to run. [Photographer: Magnus Rosendahl. Photo courtesy of Public-Domain-Photos.com.]
We humans are like that, too. We lock our doors before we settle down for the evening. Some city dwellers have multiple locks on their doors or security systems on their homes. Many have peepholes in their front doors so that they can see any person that might be standing outside their dwellings. While it doesn't hurt to do what we can, true peace of mind and heart only comes from trusting in the Lord.
In the same way that humans fear attacks from other people, sheep face conflict with other sheep. Since sheep are social animals, rank and status exist among them. The tendency to dominate often happens with age and size so that they compete for the best section of the pasture on which to graze and for the shadiest spot in which to rest. Consequently, older ewes have been known to butt unsuspecting younger ones out of their way. Such actions create tension within the flock so that the sheep are unwilling to lie down and rest.
Lying down does not necessarily mean sleeping. Although lambs may sleep 8 to 12 hours a day, adult sheep sleep about 15 percent of the time. However, they need to lie down and relax much more than that because that is when they ruminate or chew their cud.
Consuming forage keeps their digestive systems operating properly. After grazing on grass, weeds, hay and other forage, the food that was ingested comes back up to be chewed and swallowed again. This is called "cud chewing" or "rumination". As mentioned in my earlier posting, "My Shepherd", rumination requires several hours. An absence of tension is essential to this process.
Besides predators and competition within the flock, another source of discontent is insects that torment sheep, buzzing around their ears and noses. This causes the sheep to get up and move around to shake off the insects. At such times, cud chewing stops. Like humans, sheep do not relax when they are under stress.
An expert shepherd knows how to keep sheep free from insects, conflict, and predators so that the sheep are willing to lie down. He knows how to protect his sheep and keep them at peace. Such a shepherd makes it possible for his sheep to lie down in a setting where fear and threat of harm are absent. That is what God did for David.
It is remarkable that David understood that and took the time to write about it because he was a fugitive! On more than one occasion, King Saul gathered his fighting men to hunt David down to kill him! One such incident occurred in 1 Samuel 23:8: "And Saul called all the people together to war, to go down to Keilah, to besiege David and his men." (King James Version)
Nor was this the only instance when King Saul pursued David with murderous intent. Although Saul stalked David many times, Saul never succeeded because David trusted God to protect him as a shepherd does his sheep; and God did.
God can and will do the same for you, but you must trust Him completely. You cannot take back your concerns and worry over them. This is not a game of catch and toss. If you keep snatching your problems back, God will eventually let you keep them. I speak from authority because I work on this daily. Trusting God is not easy, but it is a satisfying learning process. As you practice it every day, you will eventually become more skilled at it.
It is an odd thing that as you trust God more, other people may accuse you of having your head in the sand and of not caring about the world's problems. This happened to me recently. It was almost comical.
I replied, "I am concerned, but I have learned to turn my worries and concerns over to the Lord because I can't do as much about them as He can."
Although my accuser claimed to be a Christian, he thought I was acting irresponsibly. Even fellow believers may not understand your complete trust in the Lord, but God does, and He appreciates it. So will your body. Your health will improve when you turn your worries over to the Lord because He is the Good Shepherd.
Then, you will be able to say, as David did in Psalm 62:7, "In God is my salvation and my glory: the rock of my strength, and my refuge, is in God." (King James Version)
Bible Verses for the Week
Psalm 23:2 "He maketh me to lie down in green pastures;…" (King James Version)

Salmos 23:2 "En lugares de delicados pastos me hará yacer;…"(Reina-Valera Antigua)
1 Samuel 23:8: "And Saul called all the people together to war, to go down to Keilah, to besiege David and his men." (King James Version)

1 Samuel 23:8 "Y convocó Saúl todo el pueblo á la batalla, para descender á Keila, y poner cerco á David y á los suyos." (Reina-Valera Antigua)
Psalm 62:7, "In God is my salvation and my glory: the rock of my strength, and my refuge, is in God." (King James Version)

Salmos 62:7 "En Dios está mi salvación y mi gloria: En Dios está la roca de mi fortaleza, y mi refugio." (Reina-Valera Antigua)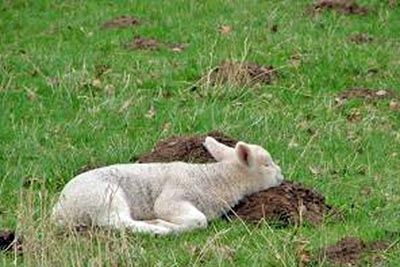 This lamb can relax completely because he trusts his shepherd to protect him. [Photographer: Mo Awkati. Courtesy of Stockvault.net.]
Psalm 23 — "1) The Lord is my shepherd. I shall not want. 2) He maketh me to lie down in green pastures; He leadeth me beside the still waters. 3) He restoreth my soul: he leadeth me in the paths of righteousness for his name's sake. 4) Yea, though I walk through the valley of the shadow of death, I will fear no evil: for thou art with me; thy rod and thy staff they comfort me. 5) Thou preparest a table before me in the presence of mine enemies: thou anointest my head with oil; my cup runneth over. 6) Surely goodness and mercy shall follow me all the days of my life: and I will dwell in the house of the LORD for ever." (King James Version)

Salmos 23 — Salmo de David. "1) JEHOVA es mi pastor; nada me faltará. 2) En lugares de delicados pastos me hará yacer; Junto á aguas de reposo me pastoreará. 3) Confortará mi alma; Guiárame por sendas de justicia por amor de su nombre. 4) Aunque ande en valle de sombra de muerte, No temeré mal alguno; porque tú estarás conmigo: Tu vara y tu cayado me infundirán aliento. 5) Aderezas mesa delante de mí, en presencia de mis angustiadores; Ungiste mi cabeza con aceite: mi copa está rebosando. 6) Ciertamente el bien y la misericordia me seguirán todos los días de mi vida: Y en la casa de Jehová moraré por largos días." (Reina-Valera Antigua)
Return to the top of the page