WHO SAYS WE CAN'T PRAY?
¿Quien Nos Dice Que No Podemos Orar?
By Mary Hunt Webb
Posted Tuesday, February 7, 2012
Where did the first semester go? [Photographer: Mary Hunt Webb]
With the start of the second semester in most areas, there is still prayer in school. As both a parent and an educator, I know that prayer is not officially sanctioned in American schools but private prayer still prevails. While students pray over their homework and pray for success on exams, parents and grandparents not only pray for their children, but they also pray for the teachers, staff, administrators, and the schools.
When our son was young, he attended a Christian school for a few years. Although the public school system owned the building, a local church rented the edifice for its Christian school. Every time I got out of my car and stepped foot on that campus, I felt the presence of the Holy Spirit in a way that I have never felt again in other Christian or secular schools. I'm convinced that the church members as well as the parents and grandparents prayed for that school. The same can happen for public school campuses. As long as students and their families pray for the schools, the Holy Spirit is present.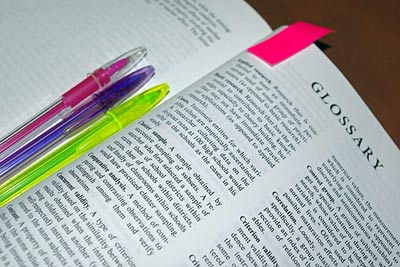 "O Lord, please give me wisdom on this test that is coming up!" [Photographer: Mary Hunt Webb]
I once saw a slogan that summed it up nicely: "As long as there are tests, there will be prayer in school!" God shows up when a student prays even a short prayer, such as, "O Lord, please give me wisdom on this test!" Even a quick prayer of that nature summons the Holy Spirit to that campus. The Bible tells us that God appears wherever His believers are.
Although prayer is officially banned in American public schools, I know that when something is prohibited, it causes people to want it more. That lesson was reinforced while I was attending a writers' conference. Another writer and I were standing at the back of the auditorium while the speaker on stage told the audience that one of the books she had written had been banned from public schools around the nation.
The author standing next to me whispered, "Ooh! I would love to have one of my books banned!"
"Really?" I asked. "Why?"
A look of surprise crossed her face as she responded, "Are you kidding? Censorship sends the book's sales through the roof!"
In essence, banned books often become bestsellers. Censorship actually promotes a book rather than suppressing it.
As a gardener, I have seen something like that occur when I have tried to eliminate a certain type of plant in my yard. That plant has returned stronger than ever before.
The Bible tells us that something similar happened among Christian believers in Jerusalem following the death and resurrection of Jesus and the stoning of Stephen, a Greek believer. Acts 8:1b and 8:4 relate, …At that time a great persecution arose against the church which was at Jerusalem; and they were all scattered throughout the regions of Judea and Samaria, except the apostles. 4) Therefore those who were scattered went everywhere preaching the word."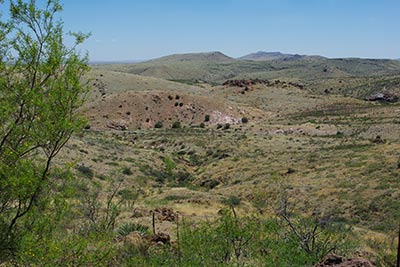 The persecution of believers in Jerusalem caused them to leave that city, taking the Gospel with them. [Photographer: Morris S. Webb, Jr.]
Consequently, the attempts to suppress belief in Jesus Christ as the Messiah resulted instead in the spread of Christianity beyond Jerusalem.
Similarly, I believe that elimination of prayer in schools is not only failing to eradicate prayer, but that the attempted suppression is promoting its growth. When people are told that they can't pray in school or in public places, then that is what they want to do! The more they are told not to pray, the more actively they do it!
The next time you hear someone bemoan the elimination of prayer in American schools, just remember that the attempt to suppress Christianity in Jerusalem more than two thousand years ago actually caused it to spread and spring up around the globe. The pattern has been set for the same thing to happen with prayer.
Who says we can't pray?
Bible Verse for the Week
Acts 8:1b, 4 "…At that time a great persecution arose against the church which was at Jerusalem; and they were all scattered throughout the regions of Judea and Samaria, except the apostles. 4) Therefore those who were scattered went everywhere preaching the word." (New King James Version)
Hechos 8:1b "En aquel día hubo una gran persecución contra la iglesia que estaba en Jerusalén; y todos fueron esparcidos por las tierras de Judea y de Samaria, salvo los apóstoles. 4) Pero los que fueron esparcidos iban por todas partes anunciando el evangelio." (Reina-Valera 1960)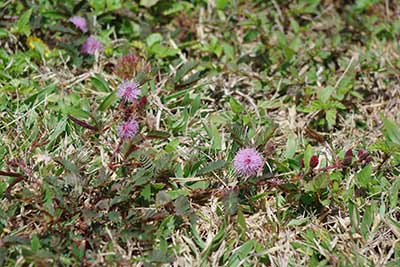 Like this vigorous Sensitive Briar Mimosa, which sows its seeds freely, prayer cannot be suppressed but will continue to spread. [Photographer: Mary Hunt Webb.]
Return to the top of the page