EVERY BREATH IS A GIFT!
¡Cada Hálito Es Un Regalo!
By Mary Hunt Webb
Posted Saturday, January 14, 2012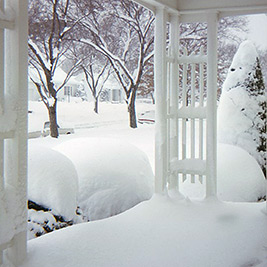 My father-in-law took this photo from his front porch in Wichita, Kansas, on March 16, 1970. I just love sharing with you some of his vintage photos from his vast collection. [Photographer: Morris Webb, Sr.]
My family told me of the days when dairies made home deliveries early in the morning before most people arose. Sometimes the clanking sound of glass milk bottles woke people up when there was no snow on the ground. If there was snow, then the blanket of white absorbed the sounds so that everything was quiet.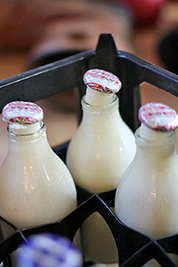 When milk freezes, it expands and pushes the milk up and out of the bottle. This photo came from the United Kingdom. [Photographer: Henry Bush, via Flickr.com.]
When the milk in the bottles froze on frosty winter mornings, it occasionally expanded so much that the frozen milk rose out of its glass restraints and lifted the lids off the bottles. Sometimes the milk rose to form a column that reflected the shape of the neck of the bottle. Other times, the white liquid flowed out to form a curly-looking topknot on the container. Customers received a surprise when they went outside to retrieve the bottles because they found the lids resting on top of the frozen milk and above the glass rims.
Although I never saw such a sight, my friends and I enjoyed other sights of cold weather. We thought it fun to puff out a mouthful of breath so that we could watch it form a frosty little cloud.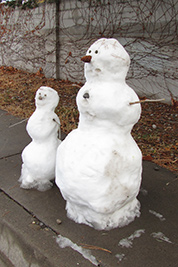 This snow mother and her child appeared on a sidewalk in New Mexico after a snowfall in December 2011. [Photographer: Mary Hunt Webb.]
Now, after hearing of people dying from cold temperatures, I understand how privileged and blessed my family and I are to have survived many cold winters in the various locations to which God has taken us throughout the western United States. I now regard it as a blessing when my warm breath collides with cold air to create a small cloud. That condensation reminds me that Psalm 150:6 tells all of us, "Let everything that has breath praise the LORD." (New King James Version)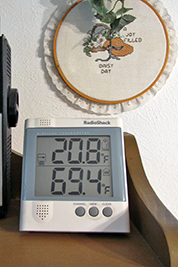 The top number, 20.8 degrees Fahrenheit, was the outdoor temperature when I got up yesterday morning. The bottom number was the temperature inside our house. [Photographer: Mary Hunt Webb.]
No matter how cold you are, every breath you take is a blessing from the Lord. Each lungful that you inhale is a reminder of the gift of life that God has given you and the purpose He has for you in keeping you alive on earth. We pray that you will remember to praise the Lord for it.
Bible Verse for the Week
Psalm 150:6, "Let everything that has breath praise the LORD." (New King James Version)
Salmos 150 "Todo lo que respira alabe a JAH. Aleluya." (Reina-Valera 1960)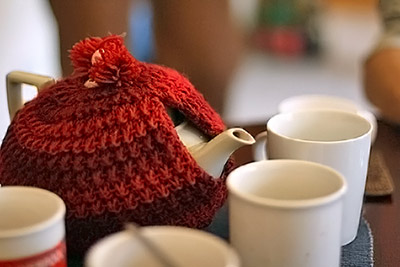 Cold weather encourages us to warm up with something like a cup of hot tea! This photo came from the United Kingdom. [Photographer: Henry Bush, via Flickr.com.]
Return to the top of the page