LIGHTS, CAMERA, CHRISTMAS!
¡Luces, Cámara, Navidad!
By Mary Hunt Webb
Posted Saturday, November 26, 2011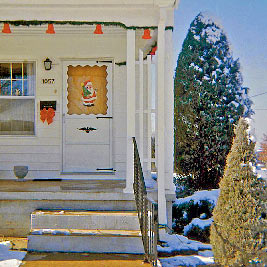 This single string of red bells on the porch of this home lit up the night each Christmas. [Photographer: Morris S. Webb, Sr.]
In some households, hanging lights on the outside of the family dwelling is an important part of the Christmas season.
Our friend, Steve Kunkle, describes the annual discussion about Christmas lights with his wife, Melissa, this way:
"If I can make my wife happy, I'll do it. If I can get points for it, that's even better!
"In November, along about Thanksgiving, Melissa would say, 'I can't wait until we put the lights up!' I don't like to put up lights; I could care less, but she loves that stuff!
"She would stay enthusiastic and a week later, she would ask, 'When are you going to put up the Christmas lights?' A week later, she would ask again, but this time she was less enthusiastic about it. I would finally put them up the second week in December, which was two weeks later than she wanted them. By then, she wasn't happy. The enthusiasm was gone from her voice, and she was angry about it. Even putting them up reminded her that I hadn't done it when she first wanted me to. I finally did what she wanted, but I did it grudgingly. I got no benefits or points for that.
"One year, the light finally went on in my brain that I was going to put them up anyway. I could put them up when she first asked in November and be the perfect husband or I could put us both in a bad mood by waiting until mid-December. I learned that it's better if we please our wives any way we can.
"Now I put the Christmas lights up in August!"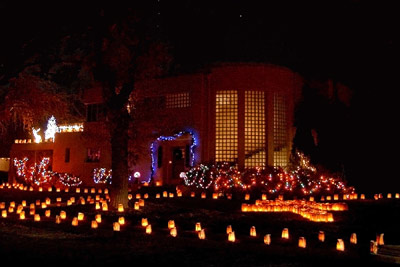 Each year, lights add sparkle to Christmas displays. [Photographer: Morris S. Webb, Jr.]
Steve's story emphasizes the fact that we often create our own stress around the holidays by waiting to do what we know will have to be done. When we apply love to all that we do, it is contagious to everyone around us.
1 Corinthians 16:13-14 "13) Watch, stand fast in the faith, be brave, be strong. 14) Let all that you do be done with love." (New King James Version)
1 Corintios 16:13-14 "13) Velad, estad firmes en la fe; portaos varonilmente, y esforzaos. 14) Todas vuestras cosas sean hechas con amor." (Reina-Valera 1960)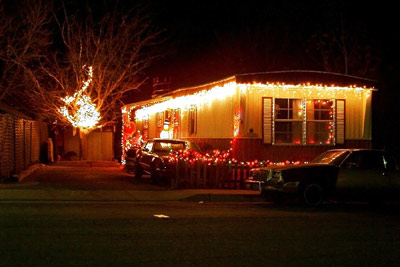 It is important to show love in all that you do and to use what God has given you to bring joy to others. [Photographer: Morris S. Webb, Jr.]
Return to the top of the page