THE MUSIC BOX
La Caja De Música
By Mary Hunt Webb
Posted Sunday, October 16, 2011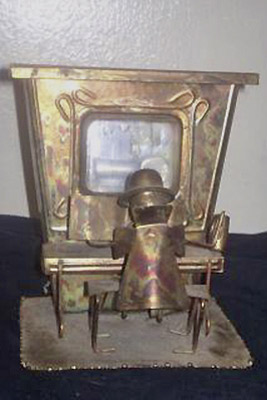 Music boxes come in a variety of styles, shapes, and sizes. [Photo courtesy of Stockvault.net.]
As a youngster, I remember being in the home of an older couple. One of the items that the lady of the house showed me was a decorated figurine that she called a "music box". There was a key on the side of it that she turned. As she wound the key, a tune filled the air. Although I no longer remember the name of the one tune that it played, my fascination with music boxes remains.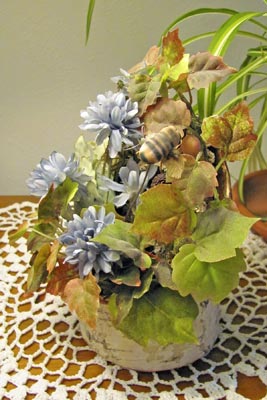 This bouquet of artificial flowers is a music box. [Photographer: Mary Hunt Webb.]
In today's world of MP3 players, a music box that plays only one tune might seem outdated. However, music boxes still sell and are prized as reminders of simpler times.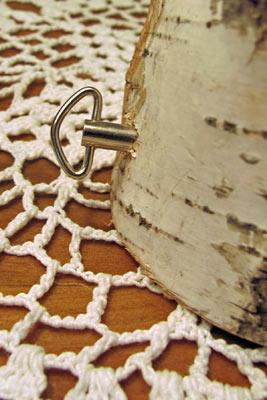 The backside of the bouquet music box shows the wind-up key that one turns to play the music. [Photographer: Mary Hunt Webb.]
A dear friend gave me a music box that resembles a bouquet of flowers. The windup key is on the back of the bouquet. In order to play it, I must wind the key as many times as the mechanism inside will allow. At first, the music plays at a rapid tempo. However, as the mechanism winds down, the music plays progressively slower until it finally stops.
Sometimes Christians begin to feel as rundown as a music box, especially when they depend upon sources other than the Lord for their strength.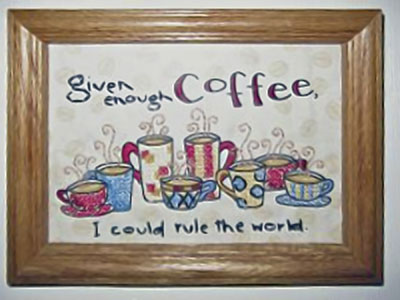 God is stronger than coffee. [Photo courtesy of Stockvault.net.]
Sugar, sodas, caffeine, tobacco, alcohol, and drugs are all false friends that people often turn to in order to cope with the world. But, these substances can lead to poor health and even death. However, God knew that temptations would come our way. He knew that we are not perfect. That's why He sent His Son, Jesus, to earth. Before Jesus came, the Jews had to offer sacrifices to atone for their sins, but when Jesus died on the cross, He took the blame and punishment for our sins. However, the grave could not contain Him. He arose as a demonstration of His unfailing strength that continues even now.
The Bible assures us that we can turn to the Lord as our unlimited Source of strength. He is always there. His strength never fails. More than that, He loves you and wants the best for you. All that you have to do is trust Him. You can do that by praying this simple prayer:
"Dear God, Sometimes I feel like I don't have the strength to go on. Please help me! I have trusted things that I put into my body to give me stamina to deal with the world, but they haven't worked. Now I ask You to come into my heart and take over my life. I trust You to do better with my life than I have done. Thank You for sending Your Son, Jesus, to earth. Although I don't fully understand how You have transferred my sin to Jesus, I trust You to make that clear to me as time goes on. Please fill my weakness with your strength. Thank You for the gift of eternal life. I pray this in the name of Jesus. Amen."
If you prayed that prayer, please let us know by writing us at feedback@maryhuntwebb.com. We encourage you to look for a Bible-believing church where you can get involved in Bible studies as well as church services and learn more about Jesus. If the first one you try isn't a good fit, ask the Lord to lead you to the right one. Many people give away New Testaments. Start reading one until you can obtain a full Bible. A modern translation will help you understand what you read. Most of all, don't give up! Read some of our Previous Posts from the menu on the left. We are here to encourage you. We pray for you and care about you!
Isaiah 40:28-29 "28) Have you not known? Have you not heard? The everlasting God, the LORD, the Creator of the ends of the earth, neither faints nor is weary. His understanding is unsearchable. 29) He gives power to the weak, and to those who have no might He increases strength." (New King James Version)
Isaías 40:28-29 "28) ¿No has sabido, no has oído que el Dios eterno es Jehová, el cual creó los confines de la tierra? No desfallece, ni se fatiga con cansancio, y su entendimiento no hay quien lo alcance. 29) El da esfuerzo al cansado, y multiplica las fuerzas al que no tiene ningunas." (Reina-Valera 1960)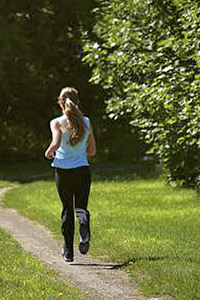 The Lord is our source of strength. [Photo courtesy of Stock-vault.net.]
Return to the top of the page