MONEY IS SO TEMPORARY
La Moneda Es Tan Temporal
By Mary Hunt Webb
Posted Monday, October 10, 2011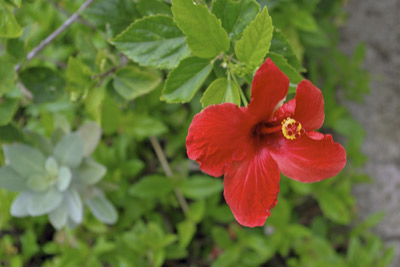 This Red Hibiscus greeted Morris and me each morning as we left our hotel room. [Photographer: Mary Hunt Webb]
In the years leading up to our 40th wedding anniversary, we put aside money for a trip to Hawaii with which to celebrate the occasion. As part of our plans, we made airline reservations.
When I told a friend of our intended visit, she said I was one of three people she knew that was planning to take a cruise to Hawaii. Her response puzzled me because I had said nothing about a cruise ship.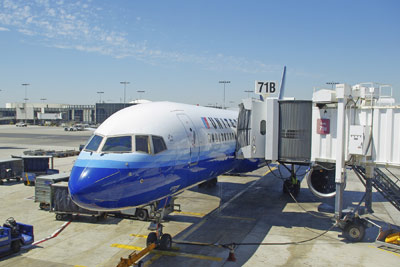 We boarded this Boeing 757 to fly from Los Angeles to Hawaii. [Photographer: Morris Webb]
She seemed surprised when I replied, "We are not taking an ocean cruise. We are flying."
When she heard the word "Hawaii," she had immediately associated it with an ocean liner. Consequently, she heard something different from what I actually said. That is not unusual.
People often do the same thing with the Bible. One of the most misquoted verses in the Bible is 1 Timothy 6:10. Although most people think it says, "Money is the root of all evil" that is not what it says at all! Instead, it asserts, "For the love of money is a root of all kinds of evil, for which some have strayed from the faith in their greediness, and pierced themselves through with many sorrows." (New King James Version)
It is not money but the love of money that is behind all kinds of evil rather than all evil.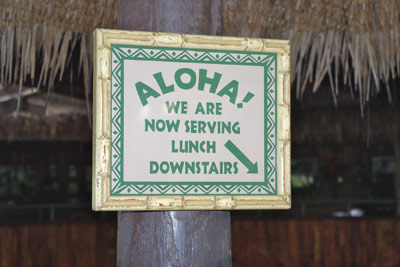 This greeting is typical of signs seen in Hawaii. [Photographer: Mary Hunt Webb]
Money, like food, is useful as long as it remains in proper perspective and is not allowed to become the focus of one's life.
Keeping a proper attitude toward money as a means toward an end, rather than as an objective, can lessen some of the "many sorrows" about which the Apostle Paul warned in our featured Bible verse. Similar to food and clothing, money has a limited period of usefulness. It doesn't stay forever. Sometimes it seems that just as soon as we have welcomed it in, we are telling it, "Goodbye". That makes me think that Hawaiians are wise to use the word "aloha" for both "hello" and "goodbye".
Just as the love of money pertains to evil, the love of God relates to goodness. Through giving 10 percent of our income and resources to the Lord's work here on earth, we demonstrate that we love the Lord and trust Him with part of what He has given us.
Do you trust God to bless you by giving Him back a small portion of what He has given you? Try it, and you will be amazed at how He will bless you through your giving!
1 Timothy 6:10 "For the love of money is a root of all kinds of evil, for which some have strayed from the faith in their greediness, and pierced themselves through with many sorrows." (New King James Version)
1 Timoteo 6:10 "porque raíz de todos los males es el amor al dinero, el cual codiciando algunos, se extraviaron de la fe, y fueron traspasados de muchos dolores" (Reina-Valera 1960)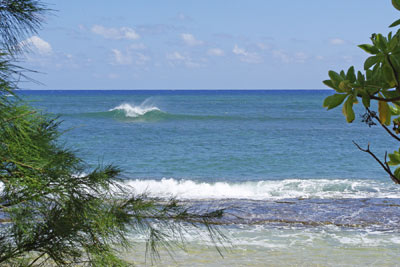 Waves wash ashore on a beach in Hawaii. [Photographer: Morris Webb]
Return to the top of the page