WHAT MAKES YOUR MARRIAGE UNIQUE?
¿Qué Es Especial De Su Matrimonio? (Spanish)
By Mary Hunt Webb
Posted Sunday, September 25, 2011
"I'm going outside for a minute," my husband informed me. "There's a thunderhead building up out there that's rather photogenic!"
I laughed. Marriage to a meteorologist certainly creates some unique moments.
"Oh, good," I responded cheerfully. "Another photo for the family album! We'll put it next to the ones of our grandson."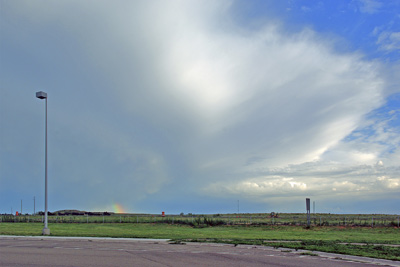 A rainbow peeks out from beneath this thunderhead. [Photographer: Morris Webb, Jr.]
He stopped with camera in hand to ask, "Do you think I'm weird?"
"No, dear. After all these decades of marriage, I know you. Just tell it to smile and say, 'Cheese!' for the camera!"
He knew that we already had photos of the clouds of giant thunderheads in our photo albums right next to those of family members and friends.
As I look at our unique photo collection, I recall the reaction of one lady when she learned that I was engaged to a meteorologist. She warned, "Honey, don't you know that if you marry a meteorologist, it will rain on every picnic you ever have!"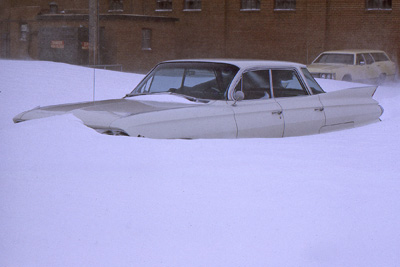 This vintage Cadillac was parked outside the Cheyenne Airport when a blizzard dumped 12 to 18 inches of snow on Wyoming's capitol city. [Photographer: Morris Webb, Jr.]
Rained-out picnics have been among our lesser concerns during the course of our marriage. Morris has stayed overnight at the National Weather Service when blizzard conditions made it impossible for him to return to our home even when we lived a couple of miles from his office. On another occasion, a hailstorm dropped so much hail that it piled up in drifts in our yard, like snow. Rain falling during a picnic was the least of my worries.
Weather is only one way that science has dominated our family life. It creeps into dinner conversations and has dominated our vacations and day trips.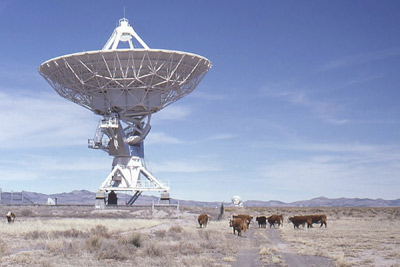 Cattle graze near one of the 27 radio telescopes at the Very Large Array (VLA) near Magdalena, New Mexico. [Photographer: Morris Webb, Jr.]
We have taken our son on family outings that included visits to radio telescopes, to a Doppler radar site, to a meteor crater, and to countless scientific museums.
That's what happens when one is married to a meteorologist. But, I don't mind because it makes life interesting. I have accepted my husband's eccentricities and am happy to report that he has accepted mine.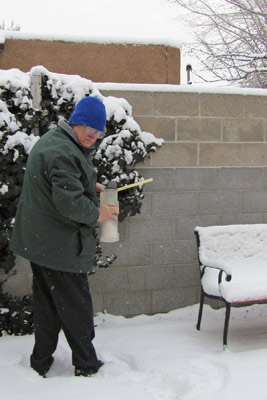 Morris includes the measurement of snow as part of his daily weather observations. [Photographer: Mary Hunt Webb.]
Instead of focusing on our differences as points of contention, Morris and I have learned to value those differences. While he possesses technical and scientific abilities that I lack, I have verbal skills, teaching abilities, and insight into psychology that he does not have. We have often said that, together, we present a complete set.
The key is to lift each other up, compliment each other, and value the abilities that each spouse and family member possesses.
Do you value the uniqueness of your spouse? Try to look for special abilities that your mate has that you do not possess. Compliment your spouse and let him/her know how much you treasure those gifts. You will be amazed at the way it changes your marriage.
Ephesians 4:31-32 "31) - Let all bitterness, wrath, anger, clamor, and evil speaking be put away from you, with all malice. 32) And be kind to one another, tenderhearted, forgiving one another, even as God in Christ forgave you." (New King James Version)
Efesios 4:31-32 (Español) - "31) Quítense de vosotros toda amargura, enojo, ira, griterña y maledicencia, y toda malicia. 32) Antes sed benignos unos con otros, misericordiosos, perdonándoos unos a otros, como Dios también os perdonó a vosotros en Cristo." (Reina-Valera 1960)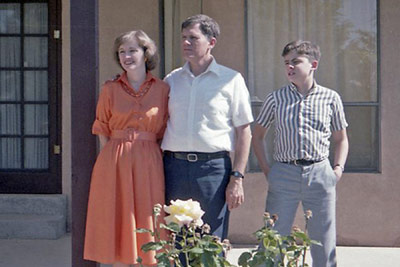 Mary and Morris Webb pose with their son, Merrill, while Merrill was a young teenager. [Photographer: Morris Webb, Sr.]
Return to the top of the page