SUNFLOWER WISDOM
La Sabiduría de Girasoles
By Mary Hunt Webb
Posted Sunday, September 4, 2011
A visitor to our home this week noticed the tall, pretty, yellow flowers in our courtyard.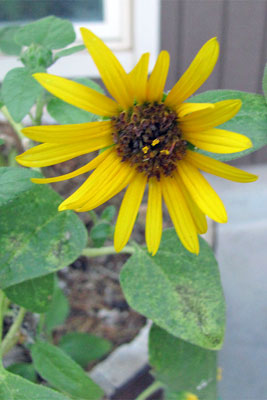 [Photographer: Mary Hunt Webb]
When I told him that they are sunflowers, he seemed surprised because their composite faces only measure between three and four inches in diameter.
"I thought sunflowers were BIG," he exclaimed, expanding his hands to approximately the size of an imaginary salad plate.
"Sunflowers come in many different sizes, types, and colors," I assured him.
He was truly astonished. "They do?"
"Yes, they don't all produce edible seeds," I informed him. "Some are small, like these, while others are medium size as well as the large ones that you mentioned. Some even have red petals!"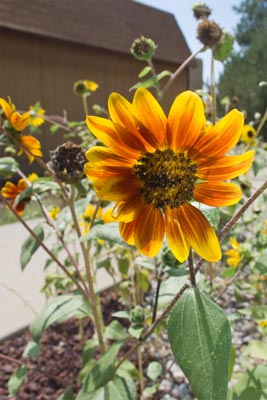 [Photographer: Mary Hunt Webb]
That was news to the young man.
The Spanish word for sunflower is girasol. That might be translated "turn (to the) sun". For the physical world, el sol (the sun) is the source of light.
As followers of Jesus Christ, that is what we should do; we should "turn to the Son" – Jesus Christ – because He is the source of light for our souls and for the spiritual world. As we follow His leading, we can be surprised at where He takes us.
One such event happened one evening while my husband and I were watching a Christian television program. A friend, who was a former co-worker, called to tell me that she was no longer at the telephone number that I previously had for her. In fear for her life, she had left her husband.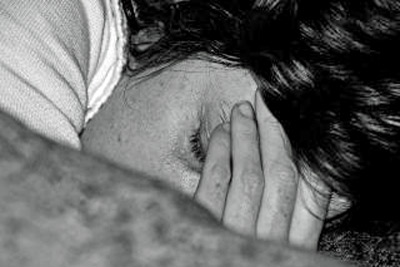 [Photo courtesy of Stockvault.net]
Until she said that, I hadn't really been listening to her. I am ashamed to say that my focus had been on the television program. However, her anguish caused me to talk with her in earnest.
"Do you have any support group?" I asked.
"No," she replied.
Thinking that she might get the support she needed from friends at church, I asked, "Do you attend church anywhere?"
"I went to church once with my aunt when I was young, but I haven't been since then."
Her answer told me that she was not a Christian. Over the next few moments, I told her that I have a personal relationship with Jesus Christ and described some of the ways that He had helped me through difficult times. Then I asked her if she would like to have that kind of a relationship with Him. When she said, "Yes," I asked her if she would repeat a prayer with me to invite Him into her life and into her heart. (See such a prayer below.) Again, she said, "Yes." She prayed along with me and received Jesus over the telephone. Before we ended our conversation, I asked her if she would like to attend church with us. When she agreed, we arranged for her to meet us at our house the next weekend.
After a few months of attending church with us, she eventually expressed the desire to be baptized. After she found an apartment, my son and I helped her retrieve her belongings from her husband and move into her new dwelling.
All went well until she developed cancer a few short years later. She traveled to another state for medical treatment and passed away there.
The realization that someone that I led to the Lord had gone to Heaven stunned me. More than that, it changed my perspective forever. It has given me boldness in telling others about Jesus so that they, too, can 'follow the Son", according to Romans 10:9. That Bible verse says "If you declare with your mouth, 'Jesus is Lord,' and believe in your heart that God raised him from the dead, you will be saved." (New International Version) Being "saved" means that you have been rescued from your sins so that your record of wrongs has been wiped clean. As a result of asking for forgiveness, your soul will live on forever in Heaven with Christ Jesus when your earthly body gives out.
If you have not received Jesus as your Lord and Savior, I encourage you to pray this simple prayer aloud, as though God is listening, because He is:
"Dear God, I know that I have done wrong and am sorry for my sins. I ask Your forgiveness for the life that I have lived. I believe that You sent your Son, Jesus, to die on the cross for my sins. I turn my life over to You. Please fill me with Your Holy Spirit. I ask this in the name of Jesus. Amen."
If you prayed this prayer, you are now a new person through Christ Jesus. You are not the same person that you were. Ask the Lord to direct you as you live that new life in Him, and watch what He will do!
Romans 10:9: "If you declare with your mouth, 'Jesus is Lord,' and believe in your heart that God raised him from the dead, you will be saved." (New International Version)
Romanos 10:9 "que si confesares con tu boca que Jesús es el Señor, y creyeres en tu corazón que Dios le levantó de los muertos, serás salvo." (Reina-Valera 1960)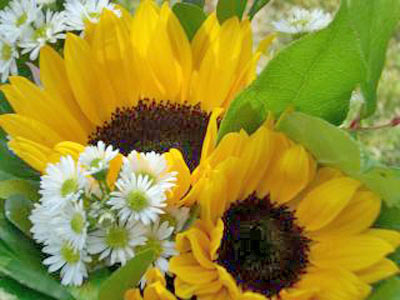 [Photo courtesy of Stockvault.net]
Return to the top of the page