THE GATE
La Entrada
By Mary Hunt Webb
Posted Saturday, August 27, 2011
One of the attractive features of our house is a small courtyard just outside our front door. A fence around the courtyard provides privacy.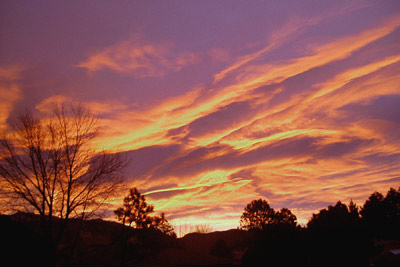 This sunrise photo from 2005 remains one of my favorites. [Photographer: Mary Hunt Webb]
It allows me to step outside at dawn and watch the spectacular sunrises that we have here without worrying that I am creating a spectacle of my own with my pre-breakfast fashions.
I can put flowerpots near the door without concern that passersby who take a fancy to my choice in flowers will liberate them.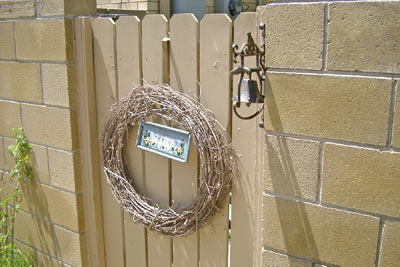 Charming gates, like this one in Wyoming, can be found all over the American West. [Photographer: Mary Hunt Webb]
Of course, anyone who took the trouble to come up and look through the wooden gate would see the flowers. However, the groaning of the gate as it swings across the pavement is effective in announcing the arrival of anyone to the courtyard.
Hopping the fence as an alternative entrance could be an unpleasant surprise for any who might try it because there are rose bushes on the courtyard side of the fence.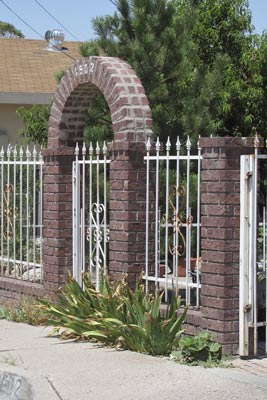 One never knows what unpleasant surprise waits on the other side of a fence! [Photographer: Mary Hunt Webb]
In the same way that the gate is the entrance for the passage of anyone into the private part of any property, Jesus is the entry, door, and gate for all that want access to the kingdom of Heaven. He said as much in John 10:9 "9) I am the gate; whoever enters through me will be saved. They will come in and go out, and find pasture." (New International Version)
All who would enter must do so through Jesus Christ. There are no short cuts and no hopping of fences. Coming through Him provides entrance to the beauty that waits inside. When you pray and ask God to show you the way to Him through Jesus, He will do so.
John 10:9 "9) I am the gate; whoever enters through me will be saved. They will come in and go out, and find pasture." (New International Version)
Juan 10:9 "9) Yo soy la puerta; el que por mí entrare, será salvo; y entrará, y saldrá, y hallará pastos." (Reina-Valera 1960)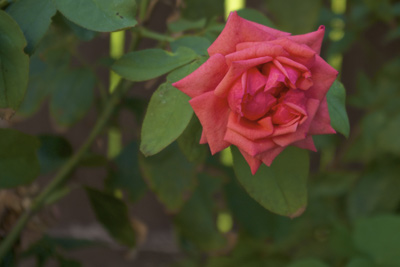 Morris took this photo of one of our roses just for you! [Photographer: Morris Webb]
Return to the top of the page