PRAY YOUR CHILDREN THROUGH SCHOOL!
Oren Uds. Para Sus Hijos Que Sucedan En La Escuela (Spanish)
By Mary Hunt Webb
Posted Sunday, August 21, 2011
In some areas, classes do not begin until September. However, the school year has begun earlier with successive years until it now begins in mid-August in many regions. Consequently, classes have already started here.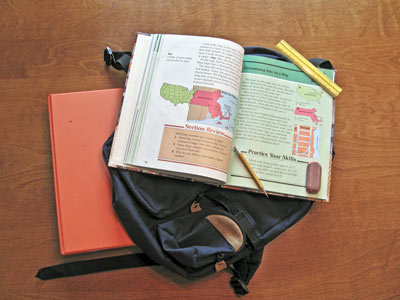 This textbook, backpack, and notebook are signs that school has begun! [Photographer: Mary Hunt Webb]
A mother of four told me this week, "School has only been in session two days and my kids already have projects and reports to do!"
When students feel overwhelmed, they bring that sense of panic home to their parents. Only a parent with a strong reliance on God can refrain from worrying. Sadly, worry is an activity that destroys the person that practices it. Worry creates tension in relationships with others as well. However, praying for family members and friends strengthens the person doing the praying as well as supporting those that are the subjects of prayer. In short, prayer is productive while worry is destructive.
More than that, prayer can be felt beyond the physical limitations of buildings and distance. I know that is true because I experienced the benefit of my own mother's prayers. One such instance happened when I was in high school.
That year, I had a strict science teacher, Mrs. Frosch, who stuck to a rigid schedule. As part of her routine, she collected our homework at the start of each class period. While the papers were handed to the front of each row of desks, she checked the empty seats against her seating chart to see who was absent. When she finished checking the roll, she gathered the homework papers, and then began the lesson. This routine never varied. All unfinished homework received a grade of "F". Just one "F" could reduce a grade for the semester.
One night while doing my homework, I could not understand the first part of the assignment.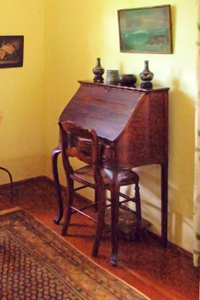 A desk and chair such as these would have provided a good place in earlier times for a student to do homework. [Photographer: Mary Hunt Webb]
Although I read the difficult part several times, it didn't make sense. I tried to go on to the following questions, but each one built on the previous answer. The only way was to leave the assignment unfinished and ask the teacher for an explanation the next morning before school. This bothered me because I was conscientious about completing my homework. I hoped I would have time during my lunch period to finish my assignment.
It didn't work that way. Before school, another student was already ahead of me with questions about that same assignment. I understood much of what she said to him, but when she finished talking with him, I was unable to ask my own questions. There was just time enough to rush to my first class. I worked on the assignment every chance I had throughout the day and even during lunch. Still, I couldn't finish.
When I walked into science class that afternoon, I got out my paper and used the few minutes before class to work feverishly. As class started, I felt a relaxed calm pervade the room instead of the usual tense atmosphere. I looked up to see Mrs. Frosch casually leaning against her lab desk while she chatted with a student. That was odd because she invariably stood ramrod straight at all times. Someone had asked her a question beforehand so that she began the period by extending the explanation to the entire class. She didn't seem to notice that I was the only student bent over my desk writing.
The atmosphere in the class was so unusually calm that it was eerie! I knew that was no accident. Someone was praying for me! I could feel it as I hurriedly pushed my pencil across the lines of the page. The discussion continued for half the session. Just as I applied the last period to the last sentence on the last page, Mrs. Frosch looked at the clock.
"My goodness! It's two o'clock," she exclaimed. "The time's half gone and I haven't even checked roll yet! Pass your homework papers to the front, please!"
The relaxed feeling evaporated at the same moment that the regimen returned. That was the only time that year that Mrs. Frosch did not collect homework at the start of class.
As soon as my mother returned home from work that evening, I asked her, "Were you praying for me today?"
"I pray for you every day," she replied.
"Yes, but when did you pray for me today?" I insisted. "What time was it?"
"I usually pray for you on my way to work and again when my boss goes to lunch at eleven," she said. "But, since nobody was in the office from one-thirty to two o'clock, I felt the urge to pray for you again while I worked. Why? Was it something special?"
I nodded, "I knew it!"
When I told her what had happened in class, she understood. Mother had met my science teacher so that she appreciated what had happened. I gave Mother a hug as I thanked her for praying for me.
You, too, can assist your children and grandchildren in similar ways by praying them through each day.
Prayer may be officially banned in public schools, but no law can stop parents and grandparents from praying for their students, the teachers, and the administrators of the schools. In the same way that my own mother prayed me through school, my husband and I did the same for our offspring. We now do the same for our grandchild. No one has the power to stop us from doing so. You can do the same for your children and grandchildren. God wants you to take your needs to Him. He truly cares about the needs of you and your family. Trust Him to respond.
Hebrews 4:16 "16) Let us therefore come boldly to the throne of grace, that we may obtain mercy and find grace to help in time of need." (New King James Version)
Hebreos 4:16 "16) Acerquémonos, pues, confiadamente al trono de la gracia, para alcanzar misericordia y hallar gracia para el oportuno socorro." (Reina Valera 1960)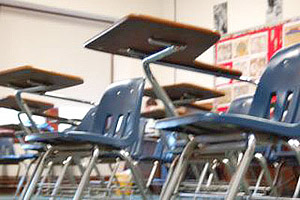 [Photo courtesy of Stockvault.net]
Return to the top of the page