PRAYER IN MARRIAGE
By Mary Hunt Webb
Posted Sunday, July 17, 2011
When a local marriage and family counselor delivered the Sunday morning message at our church, he asked, "When was the last time you and your mate prayed together?"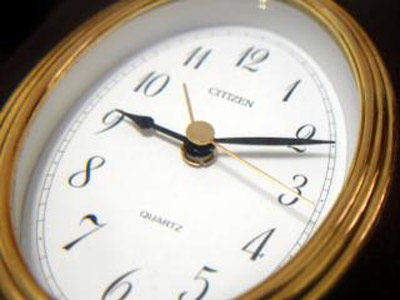 [Photo courtesy of Stockvault.net]
At that moment, Morris and I looked at our watches and then at each other.
Simultaneously, we agreed, "About two hours ago!"
Then we laughed because we both had the same response!
We have been praying together since our second date. Beginning with a prayer to bless our food, we continued praying about everything - big and small. We included God in our relationship almost before there really was a relationship! That means that we have been praying together longer than we have been married. We dedicated our relationship to the Lord early on.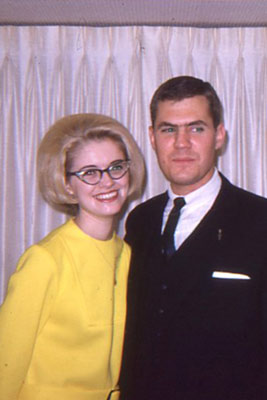 Mary and Morris in the autumn of 1968. [Photographer: G. Hargis]
This month we celebrated our forty-second wedding anniversary. Sometimes I laugh and joke that I was eight years old when we got married, but, of course, I am teasing!
However, when one man from the continent of Africa heard me say that, he solemnly remarked, "I don't think you do that in this country!"
He was right. We don't marry that young. Morris and I were college sweethearts.
God performed an amazing miracle when He brought Morris and me to the same location so that we could meet. When a friend, who is an engineer, heard the story of how we met, he said, "Wow! That's some kind of statistical miracle!"
Indeed, it was. The events that led up to our meeting are too long to publish here because I try to keep my website postings short. The condensed version is that I had been in college elsewhere and had transferred to a big university through some unusual circumstances, Morris was supposed to have been in the military, but had received a medical discharge. In his disappointment, he returned to that big university to finish his master's degree. We had each been dating other people, but those relationships had dissolved. As we each plunged into our studies for the autumn semester, Morris and I had independently prayed the same prayer before we ever met.
We had both prayed, "God, I am too busy to fall in love or think about getting married. If You want that to happen, You are going to have to put that person right in front of me and give me no other choices."
If you ever pray a prayer like that, you had better mean it!
We met on a Sunday evening through a Christian event. That same group organized another event for the next Friday to which Morris invited me. At that time, he asked me to attend church with him the next Sunday and then invited me to lunch. That is where we prayed our first prayer together over our meal.
We have been praying together ever since. We have prayed on campus, in cars, in elevators, in hospitals, in government buildings, and in many other venues. We have prayed when we were happy, sad, angry, and thankful. We have prayed for each other, for others, for wisdom, for health, for jobs, for rain, for housing, for buildings, for transportation, for forgiveness, and for protection from fire and earthquakes, to name just a few. We also pray for you and for every visitor to our website.
Morris and I believe that our willingness to pray with each other is one of the reasons that we have stayed together when others have not. It's not because we are special. We have remained close to God.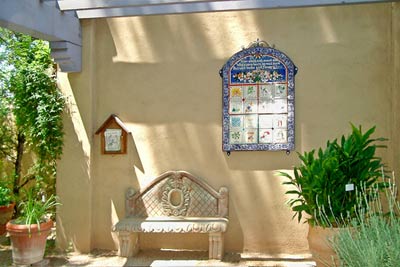 The entrance to the Tucson, AZ, Botanical Gardens as it appeared in 2004. [Photographer: Mary Hunt Webb]
That is why we have celebrated anniversaries in Arizona, California, Colorado, Hawaii, Iowa, Kansas, Massachusetts, Missouri, Nebraska, New Mexico, New York, South Dakota, Texas, and Wyoming, as well as in New Zealand. God has been with us everywhere we have gone.
We believe that God honors those that include Him. That is what we have done. We have brought Him into our marriage through praying together. When we pray together, He is with us. If you will include Him in your marriage, He will do the same for you.
Matthew 18:19-20 "19) Again I say to that if two of you agree on earth concerning anything that they ask, it will be done for them by My Father in heaven. 20) For where two or three are gathered together in My name, I am there in the midst of them." (New King James Version)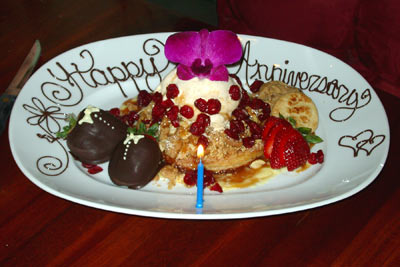 "Happy Anniversary" spelled out in chocolate on a plate at a restaurant in Tucson, AZ. [Photographer: Morris Webb]
Return to the top of the page