CHRISTCHURCH: TWENTY-FIRST CENTURY GOOD SAMARITANS
By Mary Hunt Webb
Posted Saturday, March 5, 2011
In 2004, Morris and I celebrated an important wedding anniversary with a visit to a friend in Christchurch, New Zealand. While we were there, we were also able to tour other parts of New Zealand's South Island.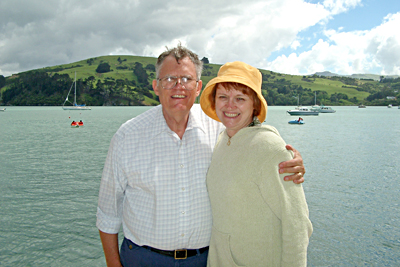 A 2004 photo of my husband and I looking out at Akaroa harbor. The village of Akaroa is on the Banks Peninsula about 52 road miles southeast of Christchurch, Canterbury, New Zealand. [Photographer: Unknown tourist]
Although I recorded enough of our Kiwi experience to fill a book, I will confine my comments here to the people of the South Island, where a 6.3-magnitude earthquake struck at midday near Christchurch on Tuesday, February 22, 2011.
The vast majority of the South Island residents are friendly and take a positive view of life; they don't waste time dwelling on life's negatives. When life seems to turn upside down, they immediately begin working to turn things right side up again.
This statue of Sir Edmund Hillary stands in front of The Hermitage Hotel, which is in Aoraki/Mt Cook National Park, New Zealand. [Photographer: Morris Webb]
Sir Edmund Hillary brought fame to New Zealand in 1953 when he and Tenzing Norgay, a Sherpa mountain guide, became the first to successfully climb Mount Everest in Nepal. To get in shape for that event, he climbed Mount Cook in the Southern Alps on New Zealand's South Island.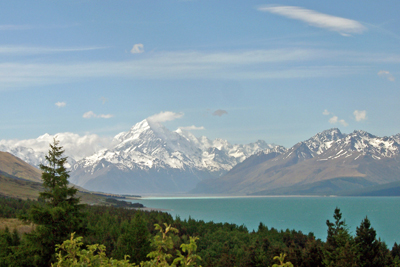 The snow-laden cloud blowing off the summit of Mount Cook looks like a flag in this 2004 photo. [Photographer: Morris Webb]
The Southern Alps are a result of the clashing of two tectonic plates. Clearly, that activity has not stopped.
The recent temblor that shook Christchurch was an aftershock of the 7.1-magnitude earthquake that jarred many South Islanders from their sleep in the predawn hours of September 4, 2010. The epicenter of that jolt was deeper in the earth and farther from Christchurch than the recent quake, which struck near the heart of Christchurch in the middle of a business day. This made the February 22nd aftershock deadly and more destructive to Christchurch and its suburbs than the first quake that happened five months before.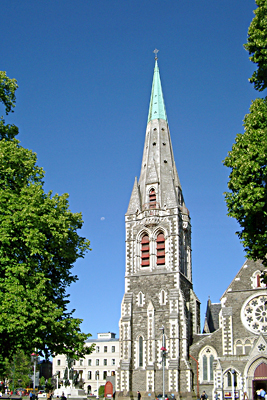 The steeple and bell tower of the Christchurch Cathedral as it appeared in 2004. This steeple was one of many to collapse in Christchurch and nearby communities. [Photographer: Morris Webb]
Structural damage forced many schools to close in Christchurch and in much of the Canterbury region. Therefore, many families are sending their children to relatives across New Zealand. These extended families are opening their arms, hearts, and homes so that children can continue their educations. Families that have "holiday homes" (vacation homes) are arranging to move their children to those second homes in order to enroll their offspring in the nearby schools. That is typical of the culture because New Zealanders are family-oriented. Consequently, boarding schools have not experienced a significant increase in enrollment because of the earthquakes.
A recent news heading in the Otago Daily Times read, "Otago schools welcome more than 800 pupils." The Otago region, the neighboring one south of Canterbury, anticipates even more students in the days to come. The operative word in the article's title is "welcome". They didn't fear the addition to its 150 schools; they welcomed them.
Neighbors are reaching out to neighbors to assist in any way that they can. Those that have private wells are sharing their clean water with their neighbors.
Since many businesses and universities are also closed, groups of young men of varying nationalities are going around the Christchurch area to pre-schools and other schools to help those institutions repair the damage so that they can open again. Farmers and others have come in from unaffected areas with their own equipment to help with repairs. They go through neighborhoods and look for homes that need assistance although the people don't know each other until they start helping. People have brought in food and refreshments for the volunteer workers. Recipients of assistance, and their neighbors, show their appreciation by providing volunteers with tea, scones, and fruit.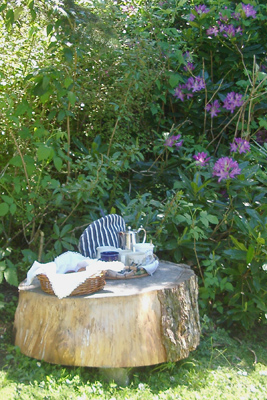 A 2004 photo of a midday tea for laborers. [Photographer: Mary Hunt Webb]
Those forced from their homes report finding food and milk outside their tents when they wake up in the morning.
Jesus addressed this sort of assistance in Luke 11:29-37 when a legal expert asked him, "Who is my neighbor?" Jesus answered by telling the parable of the Samaritan who stopped to care for a Jewish victim of crime after other Jews had refused to stop and offer assistance. The remarkable aspect of the story is that Samaritans and Jews hated each other and normally avoided each other at all cost. Jesus used the story of the Good Samaritan to point out that compassion should leap racial and cultural barriers.
That is what has happened on the South Island. Through daily acts of kindness, New Zealanders continue to show the rest of the world how to apply the lesson of the Good Samaritan in the 21st century. They have set an example for the rest of us to follow.
As Sir Edmund Hillary once said, "You don't have to be a fantastic hero to do certain things – to compete. You can be just an ordinary chap, sufficiently motivated."
The rebuilding of Christchurch today is the gateway to a better tomorrow.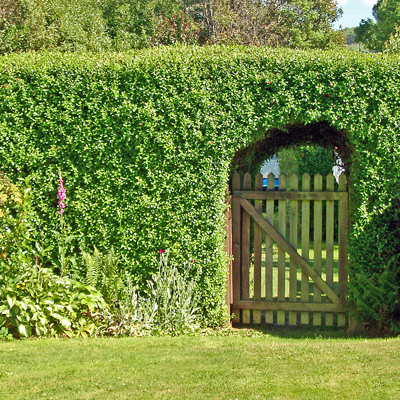 A 2004 photo of a garden gate in Akaroa, Canterbury, New Zealand. [Photographer: Mary Hunt Webb]
Return to the top of the page