CHRISTMAS IS WHAT YOU MAKE IT
By Mary Hunt Webb
Posted Monday, December 20, 2010
Christmas is more than lights, brightly colored decorations, and presents. It is a time when families gather to spend time together.
Unfortunately, that isn't always possible for everyone. Circumstances can cause a person to be away from family and friends with whom one can celebrate. Students sometimes find themselves far away from home during the holiday season. Military service, divorce, widowhood, and other situations can force separation at Christmas.
Not every one that feels lonely during the holidays is totally alone. I experienced this kind of loneliness when my husband worked rotating shifts as a meteorologist for the federal government. Many essential services do not shut down for holidays, and the National Weather Service is one of those.
The most difficult holiday I remember was our third Christmas after we married. We were in Des Moines, Iowa, because of a job transfer that happened during the previous summer. Our nearest relatives were now 350 miles away.
I was fixing my breakfast that Christmas morning when my husband returned home after working all night. After greeting me with, "Merry Christmas, sweetheart", he ate some cereal, brushed his teeth, and went to bed.
Alone in the kitchen, the day spread out before me with no other human contact. After watching a Christmas television program, I fought the temptation to feel sorry for myself. Profound loneliness swept over me.
As I walked toward the back of the house, I heard gentle snoring coming from the bedroom.
If I was having a difficult time, my husband's situation was far worse. He had gone to bed just after sunrise and would wake around sunset. He would miss the brief daylight that December 25th offered.
I looked around and realized that we had much to be thankful for. Unlike many that had graduated from college in the past two years, Morris had a good job. We had a place to live, plenty of food to eat, and our own transportation.
Looking at our Christmas tree with its secondhand decorations from our parents, it reminded me that this was now home. Just as I had decorated those rooms during the summer to make the place inviting, it was now up to me to make it look festive.
I found two albums of Christmas music and turned the volume low. Elvis Presley started singing "Blue Christmas" in tones that wouldn't wake Morris. Bing Crosby soon followed with "White Christmas".
Since Morris did not want another turkey so soon after Thanksgiving, I had bought a ham for Christmas. His aunt had given me a recipe for a cake that Morris liked, so I decided to surprise him with it.
The rest of the menu fell into place as I started the preparations for our meal. The afternoon passed quickly, and I was so busy that I didn't hear the bedroom door open.
"Merry Christmas again!"
My husband's voice startled me!
"What are you doing up so early?"
"I've had seven hours of sleep. That's good after a midnight shift!"
"Is it that late already?"
"Yep! Time to get this holiday rolling!" Sniffing the air, he proclaimed, "Smells good! What are we having?"
I recited the menu.
"Mmm! My favorite breakfast! The table looks great! I hope today wasn't too lonely for you."
I shook my head. "Elvis and Bing kept me company!"
"I hope they'll make room for me at the table because I'm starving! It looks like you've cooked up a wonderful Christmas!"
Many Christmases have passed since then, but I learned a valuable lesson that day: Christmas is what we make it, and I had chosen to make it happy.
Morris and I hope that you will choose to make Christmas happy wherever you are this year. If you are far away from family and friends, ask around and try to find others who are also away from loved ones. When you meet the needs of others, you meet your own as well.
We pray that you have a Merry Christmas wherever you are! And, a Happy Christmas to our friends in the United Kingdom and across the globe!
Bible verses for today:
Philippians 4:6-7 "6) Be anxious for nothing, but in everything by prayer and supplication, with thanksgiving, let your requests be made known to God; 7) and the peace of God, which surpasses all understanding, will guard your hearts and minds through Christ Jesus." (NKJV)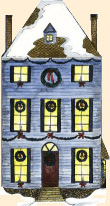 Return to the top of the page